New York, March 7, 2008—The Committee to Protect Journalists is appalled by the four-year prison term given today to Genimet Zakhidov, editor of the opposition daily Azadlyg (Freedom). Zakhidov was charged with hooliganism and inflicting minor bodily harm in November. He has been in custody ever since.
Zakhidov was secretly brought to the Yasamal District Court in Azerbaijan's capital, Baku, at around 11 a.m., where Judge Sudaba Mamedova announced her verdict in an empty courtroom, Zakhidov's lawyer Elchin Sadygov told CPJ. The journalist plans to appeal the decision.
"We denounce this travesty of justice and call for the immediate release of Genimet Zakhidov," CPJ Executive Director Joel Simon said. "Zakhidov has been convicted of being a hooligan as a means to stifle his independent journalism. We call on the appeals court to overturn this case."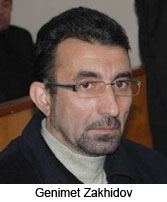 Police arrested Zakhidov after a man and woman staged a brawl on the street near his Baku office. According to what Zakhidov told local reporters, the woman, Sevgilade Guliyeva, began to yell at him as he was walking on the street, as if he had insulted her. Then the man with her, Vusal Hasanov, tried to attack him. Zakhidov fought him off with the help of people nearby. The man and woman later filed complaints against the journalist, the local press reported. A few days later, police invited Zakhidov to testify as the victim of an attack; he was instead arrested as a suspect.
According to local news reports, court hearings on the case began in January with state prosecutors calling for a five-year prison term for Zakhidov. Sadygov told CPJ that prosecutors had failed to provide the court with any evidence to back the charges against his client, and witnesses for the prosecution gave contradictory testimonies during the trial.
He said that the prosecution brought in doctors to testify as witnesses against his client. The doctors, however, had no proof of the bodily harm Zakhidov had allegedly caused to Hasanov, such as X-rays or a medical report registering the alleged sustained injuries, he said. Regardless, the judge gave Zakhidov the maximum penalty under the law.
The verdict took Zakhidov's defense by surprise, the lawyer told CPJ. The judge did not inform Zakhidov's family or his lawyers that it would be pronounced the morning after the trial adjourned; nobody was present on the journalist's behalf in court today.
Genimet Zakhidov and his imprisoned brother, prominent satirist Sakit Zakhidov, have withstood a spate of official persecution. In September, Minister of Economic Development Geidar Babayev filed a defamation lawsuit against Genimet Zakhidov for an article he wrote in the daily Azadlyg. Sakit Zakhidov has been serving a three-year prison term on an unsubstantiated charge of drug possession since June 2006, according to CPJ research.
In recent years, Azeri authorities have been creative in their usage of criminal law to harness inconvenient voices. They have been moving away, regional experts say, from the more traditional defamation charges and favoring more serious indictments such as terrorism, incitement of ethnic hatred, and drug possession—as in the case of imprisoned Eynulla Fatullayev and Sakhit Zakhidov.
CPJ ranked Azerbaijan as one of the top 10 backsliders on press freedom in 2007.