New York, October 1, 2007— The Committee to Protect Journalists is concerned about reports that one journalist has been detained and another three have gone missing in the wake of the ongoing crackdown on anti-government protests in Burma.
On Friday, Min Zaw, a reporter with the Tokyo Shimbun newspaper, was arrested at his home in the former capital of Rangoon and taken into police custody for questioning, according to news reports from exile groups. Authorities also confiscated his mobile phone at the time of his arrest, according to the reports. As of Monday, the reporter was still in police custody.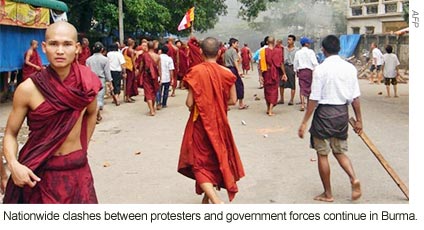 According to the exiled journalists' group Burma Media Association and news reports, at least three journalists affiliated with local Burmese language publications have gone missing since the government cracked down and rounded up protestors last week. The three include Kyaw Zeya Tun from The Voice journal; Nay Lin Aung from the Seven Day News journal; and another unidentified journalist from the Weekly Eleven News journal.
"The arrest of Min Zaw and at least three other journalists is part of an attempt to suppress all news coverage of antigovernment protests," said Joel Simon, CPJ's executive director. "We are deeply concerned about the safety and wellbeing of our detained colleagues, all the more so as the government tries to isolate Burma by shutting down phone lines and the Internet. We call on the authorities to release all detained journalists immediately."
Burmese security forces have arrested more than 1,000 people since the popular protests first started on September 19 in reaction to a sudden rise in fuel prices, as reported by the international media. The demonstrations quickly became politicized when security forces used force against protesting Buddhist monks. Last week, government forces killed at least 13 people, including Fuji News Network cameraman Kenji Nagai, who appears to have been shot at close range last Thursday.

In recent days, the Burmese government has redoubled its efforts to suppress the outflow of critical news, images, and video clips about the protests. On Friday, authorities unplugged all public access to the Internet, following reports that journalists and bloggers were sending material to outside news organizations.
At least two privately run Burmese language news groups, Pyi Myanmar and Eleven Media, have stopped publication in protest against government pressure to publish propaganda pieces about the protests in their pages. State-run publications and television stations, meanwhile, have run propaganda pieces produced by state officials sympathetic to the government's heavy-handed and deadly response to the recent protests.