Washington, August 2, 2007—The Committee to Protect Journalists today called on the United States Commission on Security and Cooperation in Europe to take a lead in making press freedom a priority in American foreign policy.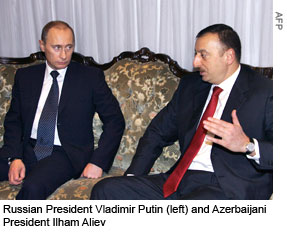 At a hearing in Washington, D.C., called "Freedom of the Media in the OSCE Region," CPJ voiced concern at the grim record of impunity in journalist murders and violent attacks against reporters—the main threat to press freedom in Russia and other former Soviet states such as Azerbaijan, Belarus, and Turkmenistan. CPJ also focused on the individual records of Russia and Azerbaijan, where, in recent years, conditions for the press have declined more than in any other Eurasian states. This regression is especially disturbing as both Russia and Azerbaijan are scheduled to go to the polls in the next 14 months.
"The international community, including the United States, cannot afford to be indifferent to the deteriorating press freedom records of Russia and Azerbaijan," CPJ Europe and Central Asia Program Coordinator Nina Ognianova told the commission, which is also known as the U.S. Helsinki Commission. "Journalists increasingly resort to self-censorship to avoid dangerous, even deadly repercussions. As a result, the Russian and Azerbaijani public suffers—uninformed about sensitive issues such as human rights abuses, corruption, high-level crime, and, in the case of Chechnya, an ongoing war."
In the run-up to parliamentary and presidential elections scheduled for December and March, respectively, Russian authorities have consolidated their control on the influential broadcast media and shifted their attention to popular dailies; passed new restrictive laws to muzzle critical voices; applied legal pressure on nongovernmental organizations, including those that support the independent media; imprisoned journalists for their work; and continued to obstruct news from and about the southern republic of Chechnya and other parts of Russia's volatile North Caucasus. In addition, 14 journalist murders committed since President Vladimir Putin took office in 2000 remain unsolved.
In Azerbaijan, where presidential elections are slated for October 2008, seven journalists are in prison on spurious charges because of their work. Ognianova called for the decriminalization of defamation—an important first step to reverse Azerbaijan's disturbing record as a leading jailer of journalists in the region. In addition, Azerbaijani authorities must be pressed to reverse a record of impunity in physical attacks against journalists, including the 2005 high-profile assassination of opposition editor Elmar Huseynov, she told the committee.
"Eclipsed by [U.S.] strategic defense and energy concerns, human rights and press freedom issues have suffered in recent years," Ognianova cautioned. "This sends a dangerous message to the world—that the United States is willing to tolerate impunity in journalist murders, the imprisonment of critical reporters, and the closing of independent news outlets in Russia and Azerbaijan. Now more than ever, the United States should take a firm stand against the repressive actions in these nations," Ognianova said.
To read the entire testimony, click here.