Manila, July 26, 2007 –The chief justice of the Philippine Supreme Court told a delegation from the Committee to Protect Journalists that he will seek justice in the unsolved killings of journalists and will use his authority to protect freedom of speech and of the press.
"The fact that the killings remain unsolved heightens public distrust in our system of justice," said Chief Justice Reynato S. Puno.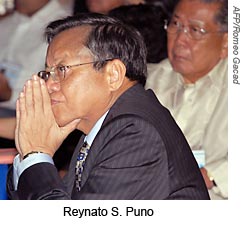 CPJ's research shows that 32 journalists have been killed in direct relation to their work in the Philippines since 1992, making it the world's fifth deadliest nation for journalists during that time period. The impunity rate in these cases is well over 90 percent, CPJ research shows.
"We're pleased by Chief Justice Puno's comments and hope the Supreme Court, along with the other branches of the Philippine government, will continue to take steps to bring to justice the killers of journalists," said CPJ Executive Director Joel Simon.
Reacting to public indignation after a series of political killings and disappearances, Puno convened a national summit on extrajudicial killings earlier this month. Under the country's 1987 Constitution, the Supreme Court has the authority to "promulgate rules concerning the protection and enforcement of constitutional rights." Puno has convened a committee to draft measures that will make it easier for the victims of killings to seek redress. The rules could also address freedom of expression concerns.
Simon and CPJ board member Sheila S. Coronel were in Manila this week to meet with journalists and government officials to discuss strategies for combating impunity for the killers of journalists.
In 2004, Philippine President Gloria Macapagal-Arroyo ordered the creation of a special police task force dedicated to solving journalist murders. While investigators have identified suspects in several of the 27 cases they have examined, they have obtained convictions in only two cases.
On October 6, a judge in Cebu convicted three suspects in the March 2005 murder of investigative reporter Marlene Garcia-Esperat, sentencing each to life in prison. The three gunmen–Estanislao Bismanos, Gerry Cabayag, and Randy Grecia–pleaded guilty and testified that they had been hired to assassinate Garcia-Esperat in retaliation for her stories about corruption in Mindanao's Department of Agriculture. Prosecutors told CPJ they expect to formally request the reinstatement of charges against the two agriculture officials suspected of masterminding the murder, finance officer Osmeña Montañer and accountant Estrella Sabay. Charges against the two officials had been dropped in 2005.
"While we are encouraged by the recent progress much more needs to be done," said Coronel. "Murder is the ultimate form of censorship and the unsolved killings represent a fundamental attack on freedom of expression. The government must combat the problem at every level."
Coronel, the co-founder and former executive director of the Philippine Center for Investigative Journalism, is director of the Stabile Center for Investigative Journalism at Columbia University.