New York, April 25, 2007—Despite encouraging statements from Palestinian leaders, the Committee to Protect Journalists remains deeply concerned about the safety of BBC correspondent Alan Johnston, abducted in Gaza six weeks ago.
Palestinian Deputy Prime Minister Azzam al-Ahmad said in a statement that Johnston was alive and "in good health," the BBC reported Tuesday. "The government is fully coordinating with the presidency and all security services to pursue the extensive efforts to release Johnston and bring him back safely to his home, family, and his work," al-Ahmad said in the statement, which was issued after a meeting with Richard Makepeace, the British consul general in Jerusalem.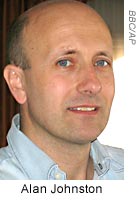 Last Thursday, Palestinian President Mahmoud Abbas said, "our intelligence services have confirmed to me that he's alive." Abbas made the remarks during a press conference in Stockholm, where he held talks with Swedish Prime Minister Fredrik Reinfeldt over restoring the European Union's direct financial aid to the Palestinian Authority.
Palestinian officials have not offered specific details in support of their statements. On April 15, an unknown group calling itself the Brigades of Tawhid and Jihad e-mailed a statement to media organizations claiming that it had killed Johnston. The BBC and Palestinian Authority could not verify the reports.
Today, the Foreign Press Association in Israel organized a demonstration on both sides of the Erez checkpoint, the main passage from Israel into the Gaza Strip, demanding Johnston's release.
"This is as far as many of us feel safe to go since Alan's abduction," said Simon McGregor-Wood, ABC bureau chief and chairman of the Foreign Press Association, on the Israeli side of the border. Johnston's abduction is having a chilling effect on the foreign media and their ability to cover the Palestinian story from Gaza, journalists have said.
Johnston, 44, was seized by four armed men in a white Subaru as he drove near the BBC's Gaza City office on Al-Wihdah Street around 2 p.m. on March 12, according to CPJ sources in Gaza. Johnston was quickly identified because he threw his business card on the street, according to news reports. Johnston, who joined the BBC in 1991, has been based in Gaza since April 2004.
Johnston was the 15th journalist abducted in the Gaza Strip since 2004. All have been released unharmed. He has been held captive longer than any other journalist previously abducted in Gaza, according to CPJ research. None of those responsible for abducting journalists have been brought to justice.