March 28, 2007
His Excellency Nouri Kamal al-Maliki
Prime Minister
c/o Embassy of the Republic of Iraq
1801 P Street NW
Washington, DC, 20036
Via facsimile: (202) 462-5066
Your Excellency: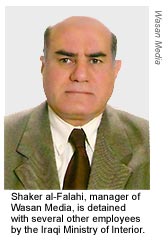 The Committee to Protect Journalists is deeply concerned that 10 current employees and one former employee of the independent production company Wasan Media have been held by the Interior Ministry for more than a month without charge.

Interior Ministry forces, including the commando brigade Maghawir, raided Wasan Media's offices in Baghdad's Al-Karakh district at 11 a.m. on February 25. They blocked the street, entered the offices, and presented Wasan Media General Manager Shaker Mahmoud Khalaf al-Falahi with arrest warrants for the employees. They seized the company's car, the employees' personal cars, broadcast equipment, computers, cell phones, and documents.
The employees arrested are al-Falahi; broadcast engineers Omar Luqman Mahmoud and Mohammed Jassim Mohammed; video editor Mohammed Qassim Nuhair; cameramen Mohammed Luqman Mahmoud and Hassan Kadhum Hameed; guards Majed Youssif Mansour, Mohammed Kurdi Abid, and Adnan Abdullah Abid; driver Qusai Fu'ad Obaid; and former driver Omar Mohammed Baseem.
Brig. Gen. Qassim Atta al-Moussawi, spokesman for the Baghdad security plan, told CPJ that Ministry of Interior forces "received information that they work in a media company that sells films to the Al-Jazeera channel," which is banned in Iraq. He said his forces found "illegal films" and "unlicensed weapons." The Iraqi government has banned any footage that shows bloody scenes, that incites sectarianism, or that encourages terror, al-Moussawi said.
The Baghdad bureau of Qatar-based satellite channel Al-Jazeera has been banned since July 2004 after former Prime Minister Iyad Allawi accused the station of incitement to violence and hatred. Iraqi officials alleged that Al-Jazeera's reporting on kidnappings had encouraged Iraqi militants; a government statement also accused the station of being a mouthpiece for terrorist groups. CPJ has criticized the ban on Al-Jazeera, saying that it amounts to censorship and damages the government's credibility in leading a free society. Al-Jazeera now operates in the Kurdish-ruled area in northern Iraq.
The arrests of the Wasan Media employees came a few days after Al-Jazeera aired an interview with Sabrin al-Janabi, an Iraqi woman who alleged she was raped by three Iraqi police officers during the enforcement of Baghdad's new security plan. The allegations sparked controversy: You were quoted as saying that the woman fabricated her story to undermine the security plan, although others in your government have supported her claim.
Wasan Media believes its employees were arrested on suspicion of supplying the interview footage to Al-Jazeera. Company officials deny supplying Al-Jazeera with this or any other footage; they say they have not worked with the satellite channel since the Iraqi government barred it from reporting in Iraq.
The 11 detained workers have been accused by Iraq's Interior Ministry of "incitement of terror," al-Moussawi said. They are currently being held in an Iraqi prison in Baghdad pending investigation. Throughout this time, they have not been charged and their lawyers and families have not been able to see them. Wasan Media officials said they have received no official government notice explaining the basis of the continued detentions. Wasan Media is a well-known independent company that provides technical support to a number of Iraqi, Arab, and international news organization working in Iraq.
It is unacceptable that these 11 people have been held for more than a month without due process. We have seen no evidence to suggest that these individuals were engaged in criminal behavior, and we call now for their immediate release.
I respectfully urge you to look into this matter personally to ensure that justice is done.
Sincerely,


Joel Simon
Executive Director