CPJ Update
October 2007
News from the Committee to Protect Journalists
CPJ to honor brave journalists

Four journalists from Russia, Pakistan, Mexico, and China will be honored for their dedication to press freedom and their resolve in the face of great personal danger with 2007 International Press Freedom Awards at the Waldorf-Astoria in New York City on the evening of Tuesday, November 20.
Dmitry Muratov, editor-in-chief of the Russian daily Novya Gazeta, Mazhar Abbas, a champion of press freedom in Pakistan, Adela Navarro Bello, general director of the weekly magazine Zeta of Mexico, and Gao Qinrong, a reporter recently released from prison in China, will all be honored at the dinner which benefit CPJ.
Tom Brokaw, the longtime NBC News anchor and CPJ board member, will receive the Burton Benjamin Award for lifetime achievement in the cause of press freedom. David Schlesinger, editor-in-chief of Reuters, will chair the black tie dinner. The awards ceremony will be hosted by NBC News Anchor and Managing Editor Brian Williams.
Attend this year's International Press Freedom Awards dinner.

In meeting with CPJ, Haiti's president pledges justice for murdered journalists

Haitian President René Préval expressed strong support for a recently formed committee that is reviewing the progress of official investigations into unsolved journalist murders in Haiti. In the September 26 meeting with CPJ's Executive Director Joel Simon, Board Member Franz Allina, and Senior Americas Program Coordinator Carlos Lauría, Préval said that the independent committee is a "signal that will permit us to resolve some crimes." In August, CPJ welcomed the creation of the committee, which will have access to official police and court documents on the murders of at least 10 journalists killed between 2000 and 2007.
In China, CPJ Welcomes Release of Two Journalists
CPJ welcomed the release of Zhao Yan, a Chinese research assistant for The New York Times, on September 15, after he served a combined three-year sentence in prison and pretrial detention on a fraud conviction, a charge that CPJ called unsubstantiated.
The news of Zhao's release came as Li Yuanlong, a reporter with the daily Bijie Ribao, was released in the early morning hours of September 14 upon the completion of his two-year prison sentence. Li had been charged with "inciting subversion of state authority" for articles he posted online. Li was charged on February 9, 2006, after being detained since September 9, 2005. Even after releasing these two journalists, China is still the world's leading jailer of journalists, with 28 journalists behind bars, according to CPJ research.
CPJ Releases Special Report: "Bolivia's Historic Moment"
Bolivian President Evo Morales and his administration have taken an antagonistic stance toward the news media, raising concerns that press restrictions will be imposed in constitutional revisions now being drafted, CPJ has found in a new report.
In "Bolivia's Historic Moment," CPJ's Carlos Lauría documents the president's heated rhetoric and its effect on free expression in the Andean nation. A variety of constitutional proposals, including media ownership and broadcast restrictions, would harm press freedom, CPJ found. More than a dozen attacks on journalists, many by government supporters, have been reported in recent months. Lauría traveled to Bolivia in August and interviewed the president for the report.
In Mexico, CPJ Helps Exonerate Reporters
Four Mexican journalists who had been held on charges of firearm and drug possession in Mexico were exonerated in September after CPJ helped draw attention to their case. The four crime reporters, Manolo Acosta, Jesús Meza González, Alberto Rodríguez, and Sinhué Samaniego were detained by Mexican soldiers while covering a routine military convoy in Monclova in the border state of Coahuila. During an interview with CPJ on August 14, Samaniego said they were beaten by the soldiers. Mexico's Nacional Commission on Human Rights then took up the case, and on September 17, all charges against the journalists were dropped.
CPJ Event Spotlights Press Freedom in Morocco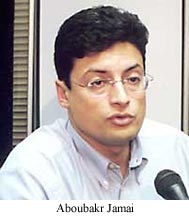 U.S. congressmen emphasized the need for an open and free press in Morocco at an event hosted by CPJ in Washington, D.C. on September 21. Diplomats from the Moroccan, Tunisian, and Algerian embassies were part of the large crowd in attendance. "International law clearly guarantees freedom of expression and the right to a free press, and we urge the restoration of these rights in Morocco," said a statement from Rep. Adam Schiff (D-Calif.) and Rep. Mike Pence (R-Ind.), co-chairs of the Congressional Caucus for Freedom of the Press and honorary chairs of the day's event.
Aboubakr Jamai, the former publisher of the independent weekly Le Journal Hebdomadaire and 2003 International Press Freedom awardee, spoke passionately about the need for change in Morocco's press.
In a recent special report, "The Moroccan Façade," Senior Middle East Program Coordinator Joel Campagna detailed how politicized court cases, media laws, and harassment have undermined the Moroccan press's gains.
Staff Appearances:
Senior Americas Program Coordinator Carlos Lauría participated in a conference on press freedom monitoring and advocacy in Latin America organized by the Knight Center for Journalism in the Americas and the Open Society Institute-Network Media Program the weekend of September 22 in Austin, Texas. Lauría participated in a panel about violence against the press, and Adela Navarro Bello, general manager of Zeta and one of this year's International Press Freedom awardees, was the keynote speaker.
Upcoming:
CPJ and CUNY Graduate School of Journalism will host a reception welcoming Iranian journalist and blogger Roozbeh Mirebrahimi, the first International Journalist in Residence at the School, on Wednesday, October 5. The reception will be held at CUNY Graduate School of Journalism, 219 West 40th Street. For more information, contact Elisabeth Witchel at

[email protected]

.
Asia Program Coordinator Bob Dietz will take part in a special conference organized by the Carnegie Endowment for International Peace in Washington, D.C., on October 11, 2007: "China's Olympian Challenge: Can Beijing Deliver on its Promises?"
Europe and Central Asia Program Coordinator Nina Ognianova joins a panel discussion about press freedom in Russia at Radio Free Europe/Radio Liberty in Washington, D.C., on October 10, 2007: "Soviet Media, Russian Media—Is There a Difference?"