Moscow, January 23, 2007—Russia's prosecutor general has opened a criminal investigation into several police officials in Chechnya who may have killed reporter Anna Politkovskaya because she was about to publish an article alleging their involvement in torture. The information was disclosed to a delegation from the Committee to Protect Journalists in a meeting on Monday with Foreign Ministry spokesman Boris Malakhov.
"We're encouraged to hear that the investigation is continuing and that there is a possibility the perpetrators of this heinous crime will be apprehended and prosecuted," said Paul Steiger, CPJ board chairman and managing editor of The Wall Street Journal, who led the delegation in Moscow.
Foreign Ministry officials, while disclosing the lead involving police in Chechnya, noted that it is one of several theories being pursued in the slaying of Politkovskaya, who was gunned down in her Moscow apartment building on October 7, 2006. Politkovskaya's article describing state-sponsored torture in Chechnya was published posthumously in her newspaper, Novaya Gazeta.
After CPJ announced its findings at a Tuesday press conference, the Foreign Ministry issued statements disputing the organization's account but acknowledging that several theories were being pursued, including one related to Politkovskaya's work. The ministry said an investigation into police in Chechnya was being carried out by local officials in the southern republic and focused on the torture allegations contained in Politkovskaya's last article. The CPJ delegation stood by its initial report.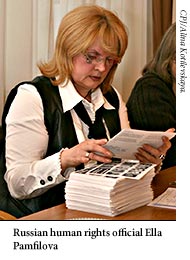 The CPJ delegation also met on Monday with Ella Pamfilova, chairwoman of the government human rights council, and delivered more than 400 postcards calling on Russian President Vladimir Putin to bring an end to an alarming string of unsolved journalist slayings. At least 13 journalists, including Politkovskaya, have been killed in contract-style murders in Russia since Putin came to power in 2000. None of the cases have been solved.
Among those signing the postcards, which were collected at CPJ's International Press Freedom Awards ceremony in November, were New York Times Executive Editor Bill Keller, New Yorker Editor David Remnick, CBS News correspondent Lara Logan, and press freedom activist Myroslava Gongadze, widow of the slain Ukrainian reporter Georgy Gongadze. Pamfilova promised to deliver the postcards directly to Putin.
"The murder of journalists in Russia has stirred international outrage," CPJ Executive Director Joel Simon said. "We believe much more can be done to stem the tide of impunity."
Also participating in the CPJ delegation were board member Norman Pearlstine, senior advisor to The Carlyle Group and former editor-in-chief of Time Inc., and Nina Ognianova, CPJ's Europe and Central Asia program coordinator. Pearlstine noted that the violence in Russia "creates a climate of fear that has a chilling effect on journalists and inhibits the flow of information." Oleg Panfilov, director of the Moscow-based press freedom group Center for Journalism in Extreme Situations, also spoke at today's press conference.
Russia is the third deadliest country for reporters worldwide, according to a recent CPJ study. Politkovskaya, the most recent victim, was shot after returning from grocery shopping. The killer, who was seen on the building's security camera system, shot Politkovskaya in the body and in the head before tossing his gun to the ground and walking away. Little progress has been reported in the investigation, although Putin told German Chancellor Angela Merkel in a meeting Sunday that the probe was going "at full speed."
The CPJ delegation called for greater transparency and accountability among Russian law enforcement authorities, including the prosecutor general's office and the Federal Security Services. CPJ research shows that Russian police and prosecutors have routinely failed to investigate journalist murders thoroughly, have neglected to consider work-related motives in the cases, and have provided victims' families and colleagues with little information about the probes. By failing to solve these murders and by wrapping the inquiries in secrecy, journalists have told CPJ, the government has effectively discouraged reporters from covering sensitive subjects such as corruption and human rights violations.
Of the 13 journalist murders since 2000, only the killings of Igor Domnikov, Aleksei Sidorov, and Paul Klebnikov resulted in arrests and trials of suspects. But, even then, prosecutions have fallen short of convictions. Two men accused of killing Klebnikov, the Forbes Russia editor slain on a Moscow street in 2004, were acquitted in May 2006 after a trial marred by procedural irregularities. The Russian Supreme Court later overturned the verdict and ordered a new trial, but the suspects are not in custody. The CPJ delegation called on authorities to ensure that the suspects are brought to a new trial as ordered by the court.