CPJ Update
Committee to Protect Journalists
August 16, 2006
CPJ Calls for Release of Kidnapped Fox News Journalists
After gunmen ambushed a Fox News Channel crew in the center of Gaza City on August 14, and abducted correspondent Steve Centanni, a U.S. citizen, and freelance cameraman Olaf Wiig of New Zealand, CPJ called for their immediate and unconditional release in a statement carried widely in domestic and international media. Fox News reports today that negotiations for the safe release of the two journalists are underway and CPJ continues to monitor developments closely. Seven other journalists have been kidnapped in Gaza over the last year. All were released unharmed.
To read more about the kidnapping of the Fox News journalists, click here: http://www.cpj.org/news/2006/mideast/gaza14aug06na.html
CPJ Protests Travel Ban in Southern Lebanon
In a letter to Israeli Prime Minister Ehud Olmert on August 9, CPJ expressed alarm at recent Israeli military actions that have sharply restricted the ability of the press to cover the current conflict in Lebanon and that endanger the lives of civilians, including members of the press. CPJ stated particularly concern for the safety of an estimated 250 journalists in Tyre, who are hunkered down in hotels and unable to move after the Israeli Defense Forces banned vehicle travel south of the Litani indefinitely effective August 7. "We would like to stress that these limitations apply to journalists as well," an IDF statement said.
CPJ urged Olmert to lift the travel ban to allow journalists to do their work unharmed and reminded him that the deliberate targeting of civilians is in violation of international law.
To read the letter to Prime Minister Olmert, click here: http://www.cpj.org/protests/06ltrs/mideast/israel-lebanon09aug06pl.html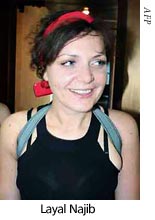 TV Crews in Southern Lebanon Tell CPJ They Are Targeted
Crews from four Arab television stations told CPJ that Israeli aircraft fired missiles within 80 yards of them on July 22 to prevent them from covering the effects of Israel's bombardment of the area around the town of Khiam, in the eastern sector of the Israel-Lebanon border. A spokesman for the Israeli Defense Forces denied
To learn more click here: http://www.cpj.org/news/2006/mideast/lebanon27july06na.html
One day later, on July 23, Lebanese freelance photographer Layal Najib, 23, was killed by an Israeli missile while traveling in a taxi in southern Lebanon to cover Lebanese fleeing north. She was a photographer for the Lebanese magazine Al-Jaras and Agence France-Presse. Najib was the first journalist fatality of the fighting.
Read about Layal Najib: http://www.cpj.org/news/2006/mideast/lebanon24july06na.html
CPJ Urges Cuba to Allow Journalists Entry
After Cuban authorities turned back at least three foreign journalists seeking entry to cover President Fidel Castro's illness on August 3, CPJ urged the government to allow journalists into the country. Foreign reporters are permitted to work in Cuba only with special journalist work visas, which are granted at the government's discretion. CPJ research shows that Cuban officials have historically granted visas to foreign journalists selectively, excluding those from media outlets deemed unfriendly.
To read more about reporting in Cuba: http://www.cpj.org/news/2006/americas/cuba03aug06na.html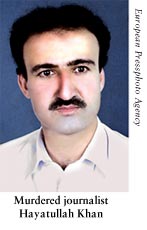 Pakistani officials pledge review of journalist killings
On July 27, Pakistani officials in Islamabad promised a CPJ delegation that they would review investigative records and reveal government information on the deaths of seven Pakistani journalists killed for their work since 2002 including Hayatullah Khan who was found murdered in June. CPJ Asia program coordinator Bob Dietz led the mission with CPJ Board Member and anchor of the soon to be launched Al Jazeera International Dave Marash and journalist Richard Murphy. The officials, Interior Minister Aftab Ahmed Khan Sherpao, Secretary of the Interior Syed Kamal Shah, and Northwest Frontier Gov. Ali Mohammed Jan Orekzai, also pledged to establish a continuing dialogue with Pakistani journalist organizations and to assure them of government support for journalists' safety.
To learn more about the mission to Pakistan, click here: http://www.cpj.org/news/2006/asia/pak26july06na.html

Upcoming 25th Anniversary events:

September 14, Open House:
CPJ kicks off its 25th Anniversary on the evening of Thursday, September 14 with an Open House at the New York office featuring a discussion with New York Times Baghdad bureau chief and 2006-2007 Neiman Fellow Dexter Filkins moderated by Executive Director Joel Simon.
For more information, contact Executive Assistant Maya Taal at "[email protected]"
September 28, Impunity Panel:
Columbia University's Graduate School of Journalism will host a panel discussion on impunity and ways of seeking justice in the cases of murdered journalists moderated by CPJ Board Member Clarence Page on the evening of Thursday, September 28.
Panelists include Dr. Judea Pearl, father of slain Wall Street Journal reporter Daniel Pearl, Ukrainian journalist and activist Myroslava Gongadze who has campaigned tirelessly for justice in the 2000 murder of her husband Grigory Gongadze, from the Philippines, well respected investigative journalist and press freedom activist Sheila Coronel, and Bob Rivard, Executive Vice-President and Editor of the San Antonio Express-News and author of "Trail of Feathers" about his search for the killers of his reporter Philip True who disappeared in Mexico in 1998.
To find out more, contact Communications Director Abi Wright at "[email protected]"