CPJ Update
June 16, 2006
News from the Committee to Protect Journalists
---
CPJ plays leading role in release of two jailed journalists in Africa

A court in the Gambia freed Lamin Fatty, a reporter for The Independent, on June 12, more than two months after he was detained by the National Intelligence Agency. Fatty was the third journalist from the newspaper to be held and released by authorities under international pressure by CPJ and other groups. The paper has been shut down since April 28. Fatty faces criminal charges because of an erroneous report in the paper about an arrest in a coup plot that was subsequently corrected. To learn more, click here: http://www.cpj.org/news/2006/africa/gambia12june06na.html

In the Democratic Republic of Congo, radio journalist Pierre-Sosthène Kambidi was released on bail on June 14 pending appeal of a defamation conviction. Kambidi was arrested June 8 in the town of Tshikapa, and sentenced to three months in jail after what was called a "parody of a trial" for allegedly defaming a local police chief. CPJ welcomed Kambidi's release but called the absence of due process "outrageous."

For more information, click here: http://www.cpj.org/news/2006/africa/drc14june06na.html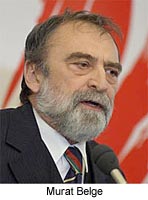 In Turkey, charges dropped against columnist
On June 9, an Istanbul court acquitted Murat Belge of the daily Radikal of charges of attempting to influence the outcome of judicial proceedings. Belge had challenged a court-ordered ban on an academic conference about the killing of Armenians under the Ottoman Empire. Belge was one of five journalists charged under Article 288 of the penal code for writing about the conference ban. Charges were dismissed against the other four in April because the prosecution had failed to bring indictments within the deadline allowed by the law, but Belge's case went ahead.
CPJ's Robert Mahoney traveled to Istanbul to attend the opening of the five journalists' trial in February. To read more about the criminal prosecutions, click here: http://www.cpj.org/news/2006/mideast/turkey09june06na.html
CPJ research shows 100 journalists and media workers killed in Iraq
In recent weeks, press fatalities in Iraq have risen to at least 73 journalists, and 27 media support staff. The combined death toll since the beginning of the conflict in March 2003 is now 100, according to CPJ research. This makes Iraq the deadliest war that the organization has covered in its 25-year history. The deaths of the CBS News cameraman Paul Douglas and soundman James Brolin, and the critical injuries of reporter Kimberly Dozier, while they were embedded with the U.S. military on May 29, were a horrible reminder of the dangerous conditions there. Iraqi journalists are still at greater risk of targeted killings than foreign journalists, CPJ research shows. Iraqi sportscaster Ali Jaafar was shot and killed on the streets of Baghdad two days later on May 31.
To read more about journalists killed in Iraq, click here: http://www.cpj.org/Briefings/Iraq/Iraq_danger.html
Staff Appearances:
Americas program coordinator Carlos Lauria participated in a workshop at the National Association of Hispanic Journalists (NAHJ) annual convention in Fort Lauderdale on June 15, focusing on the perils of being a local journalist in countries like Colombia and Mexico. On June 16 Lauria will speak about self-censorship on the panel "Dying for the story: Attacks on journalists in Mexico and how investigative reporters are fighting back," organized by Investigative Reporters and Editors (IRE) in Dallas.
Upcoming: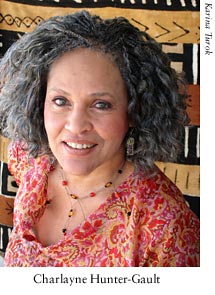 CPJ Board Member and veteran journalist Charlayne Hunter-Gault comes to CPJ next Thursday, June 22, for one of our lunchtime discussions about her new book New News Out of Africa: Uncovering Africa's Renaissance. Hunter-Gault offers an optimistic assessment of modern Africa, revealing that there is more to the continent than the bad news that dominates the Western media.
To attend the lunch, contact Maya Taal by email at [email protected]

Staff News:
After eight years at the helm of CPJ, Executive Director Ann Cooper is leaving at the end of June to head the broadcasting department at Columbia University's Graduate School of Journalism. Ann built the programmatic and financial strength of CPJ , while also becoming an important public face and voice for the global effort to protect journalists from incarceration and physical violence. She helped lead efforts that built a $7 million endowment that now funds 10% of CPJ's annual budget. Under Ann's leadership, CPJ also started two new programs: journalist assistance, to give aid directly to journalists who need help, and journalist security, developing and sharing expertise about reporting in conflict zones such as Iraq. Joel Simon will serve as Acting Director until Ann's successor is finalized.
Assistant Director of Development Elena Snyder is also moving on this summer to attend Fordham University's School of Law. Elena spent four years rising through the ranks of CPJ contributing to the expansion of the development department. She helped organize the annual benefit dinner and oversaw our database conversion.
Development:
On Wednesday, June 7, Tom Brokaw, Steve Capus and Brian Williams hosted a luncheon for CPJ at NBC's headquarters at Rockefeller Center. Initiated by CPJ board member Tom Brokaw, the goal of the gathering was to reach out to the 'next generation' of prominent journalists and news executives and inspire them to become more engaged in CPJ's mission.
The Open Society Institute, stating that they were extremely impressed with the work CPJ's Journalist Assistance Program was doing, renewed a grant for $35,000. The funds are used to provide immediate, direct aid to journalists in crisis.