CPJ Update
May 22, 2006
News from the Committee to Protect Journalists
---
'China's Hidden Unrest' explored in new CPJ report
News coverage of vast rural unrest in China is being systematically censored in the nation's biggest media crackdown since the aftermath of the1989 Tiananmen Square pro-democracy demonstrations, a special report in the coming edition of CPJ's magazine Dangerous Assignments has found.
CPJ Senior Asia Research Associate Kristin Jones spent two weeks in China interviewing editors, reporters, and activists about the widespread protests—and efforts by the government to silence the reporters who cover them. She found that the Communist Party has issued stringent new guideline to rein in reporters, but that technology in the hands of ordinary Chinese citizens has made the suppression of news more difficult.
The spring/summer edition of the magazine, to be released May 23, also features an update on the case of Wall Street Journal reporter Daniel Pearl , the impact of the Danish cartoon controversy, and a firsthand account of life as a reporter in Baghdad by Washington Post Special Correspondent Bassam Sebti.

Read an advance copy of "China's Hidden Unrest":
Read the advance version of the Daniel Pearl case:
And read Sebti's first-person account:
CPJ advocacy secures release of three African journalists
In the Gambia and Ethiopia, CPJ welcomes some good news amid daunting press conditions. Musa Saidykhan and Madi Ceesay, two senior journalists from the Independent, a leading Gambian newspaper, were freed without charge on April 20. CPJ lobbied extensively during the three weeks they were held in the custody of the country's National Intelligence Agency. A third journalist, Lamin Fatty, is still detained without charge. CPJ wrote a letter to Gambian President Yahya A.J.J. Jammeh on May 17 protesting his detention.
In Ethiopia, pregnant Internet journalist Frezer Negash was freed from custody on March 10 after a CPJ delegation led by Africa Program Coordinator Julia Crawford pressed for her release. The delegation, which included CPJ board member Charlayne Hunter-Gault, met with Prime Minister Meles Zenawi and top Justice Ministry officials. No charges were ever brought against Negash, though she had been held since January 27.
North Korea tops CPJ's 'Most Censored Countries'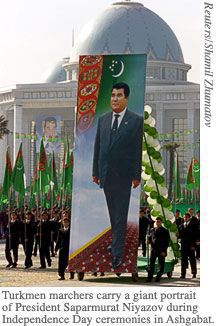 Executive Director Ann Cooper named the world's "10 Most Censored Countries" at a United Nations press conference marking World Press Freedom Day, May 3. The analysis was based on months-long research by CPJ staff.
Cooper told reporters that communist North Korea is the world's deepest information void, with no independent journalists and with all radio and television receivers locked to government-specified frequencies. Burma, Turkmenistan, Equatorial Guinea, Libya, Eritrea, Cuba, Uzbekistan, Syria and Belarus round out CPJ's dishonor roll.
CPJ's censored list received extensive domestic and international coverage, including stories on The Associated Press and Reuters wires, National Public Radio, Fox News, in the exiled Burmese publication Irrawaddy, on the BBC in French and English, and on more than 10 different services of Voice of America. The report was distributed in Spanish, French, Chinese, Russian and Arabic, amplifying the local language coverage and the debate over censorship. A commentary by CPJ Senior Editor Rob Mahoney appeared in The Guardian of London.
Read "The 10 Most Censored Countries" report
Ethiopia, Saudi Arabia focus of new reports
A CPJ investigation in the new edition of Dangerous Assignments has found no merit to the Ethiopian government's case against 14 journalists being tried on treason and genocide. Written by Africa Program Coordinator Julia Crawford, who traveled to Addis Ababa in March, "Poison, Politics and the Press" was released at a luncheon meeting at CPJ headquarters on April 28.
Crawford said a toxic political climate is driving the crackdown on journalists.
In "Princes, Clerics and Censors," Senior Middle East Program Coordinator Joel Campagna describes powerful behind-the-scenes efforts to curtail coverage of sensitive religious and political news in Saudi Arabia. The report, released May 9, is based on interviews with more than 80 reporters, writers, editors, and intellectuals in Riyadh, Jeddah, Dhahran, Dammam, and Qatif, and on meetings with officials from the interior and information ministries.

Read Campagna's story:
Marash talks about Al-Jazeera International
As part of our continuing series of lunchtime discussions, CPJ founding board member David Marash spoke about his new employer, Al Jazeera International, before a full house on May 15. The new 24-hour cable news station is scheduled to launch this fall, Marash said, and will provide news coverage with a regional perspective from four locations: Doha, London, Washington, and Kuala Lampur.
CPJ staff appearances
· Campagna traveled to the American Society of Newspaper Editors conference in Seattle on April 28 to speak on a panel dedicated to journalist safety in Iraq.
· Cooper appeared at a symposium at the United Nations on May 3, World Press Freedom Day. She also spoke about press freedom at the University of Massachusetts Journalism School, and the SUNY New Paltz campus.
· Our Washington representative, Frank Smyth, briefed State Department staffers on press freedom conditions on May 3. He also took part in a discussion of press issues on May 2 with Under Secretary of State Paula Dobriansky and Assistant Secretary Barry Lowenkron. And Smyth spoke to the new Congressional Caucus for Freedom of the Press, founded by Rep. Adam Schiff, Democrat from California, and Rep. Mike Pence, Republican from Indiana, on May 3.
Staff News:

After five and a half years, Senior Europe and Central Asia Program Coordinator Alex Lupis is leaving CPJ in June. During his tenure, Lupis had a significant impact on journalists throughout the region, vigorously defending individual cases of attacks and threats to the press on missions and in government meetings. Lupis will travel to Moscow this fall and spend the year conducting research on press freedom issues on an Alpha Fellowship before enrolling in a doctoral program in clinical psychology.
We're pleased to announce that Nina Ognianova, senior Europe and Central Asia research associate, has been promoted to coordinator of the Europe and Central Asia program. She has been with CPJ for three years, is a native Bulgarian speaker, is fluent in Russian, and holds a master's degree from the Missouri School of Journalism.
Alexis Arieff, senior Africa research associate, will leave CPJ at the end of July to pursue a master's degree in international relations at Yale University. Arieff devoted three years to CPJ, two in the Africa program where she was known for her thorough research and dogged advocacy.
Development
CPJ is very grateful to the Knight Foundation for a $50,000 gift in support of special programming to highlight our 25-year history of global press freedom advocacy.