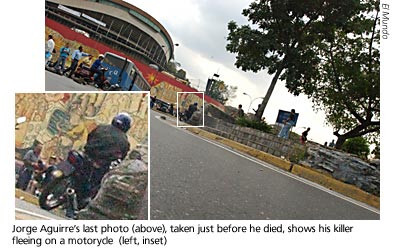 New York, April 6, 2006—The Committee to Protect Journalists condemns the killing on Wednesday of Venezuelan photographer Jorge Aguirre, who was shot as he approached an anti-crime demonstration. CPJ calls on Venezuelan authorities to conduct a prompt investigation and bring the killer to justice.
Aguirre, 60, a photographer with the newspaper chain Cadena Capriles, which publishes El Mundo and Ultimas Noticias, was initially assigned to take pictures of stadium renovations in Caracas, El Mundo Editor Enrique Rondón told CPJ. The stadium is near Universidad Central de Venezuela, where demonstrators were protesting the recent killing of three young brothers. The slayings ignited street protests demanding a crackdown on crime, the Venezuelan press said.
After completing the stadium assignment, Aguirre decided to cover the nearby protest. He got into a white Toyota Corolla, provided by El Mundo and marked with the paper's logo. As Aguirre's car neared the protest around 3.30 p.m., an unidentified man driving a blue Yamaha motorcycle approached. The motorcyclist demanded that driver Julio Canelón stop the car, Rondón said. When Canelón asked why, the motorcyclist responded he was the "authority" but didn't show any identification, the editor told CPJ.
Rondón said the driver didn't stop and proceeded to the protest scene. The motorcyclist followed and shot Aguirre four times as he was getting out of the car with his camera. Aguirre managed to take a picture of the killer's back fleeing the scene on his motorcycle, Rondón said. With the help of bystanders, the driver put Aguirre in the car and took him to a local hospital. The journalist died a few hours later.
"We condemn this senseless murder," CPJ Executive Director Ann Cooper said. "Our deepest sympathies go out to Aguirre's family, friends, and colleagues. We call on Venezuelan authorities to conduct a timely and exhaustive investigation and bring the perpetrators of this murder to justice."