New York, April 14, 2006—Thirteen journalists were arrested today in Baglung, west of Kathmandu, while protesting against media restrictions during the seventh day of a nationwide strike, the Federation of Nepalese Journalists reported. Others detained during the past week, including veteran journalist Kanak Mani Dixit, remain in police custody.
During each day of the past week's protests, security forces have assaulted, arrested, and impeded journalists who were covering the events or protesting the government's treatment of the press, local journalists told CPJ. Journalists arrested this morning in Baglung were attending a rally organized by the local chapter of the FNJ, the organization said.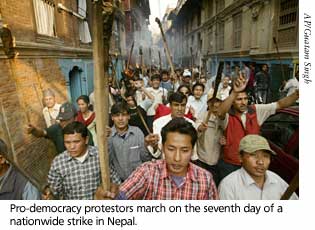 Dixit was arrested on Saturday along with activists, lawyers, and others violating curfew orders in a protest organized by an alliance of banned opposition parties against King Gyanendra's autocratic rule. Dixit refused to pay a fine and was served with a one-month arrest warrant, his brother, Kunda Dixit, told CPJ. In an article smuggled from the detention center in Kathmandu, Kanak Mani Dixit wrote about fellow detainees, some of them as young as 14, who were arrested while going to and from work during daytime curfew hours. He said they were being held in unclean conditions and without adequate food.
Nepalese journalists also reported that the Minister of Information and Communication ordered local cable operators to stop broadcasting Kantipur Television because of its coverage of the protests. Cable operators have so far refused to carry out the order, journalists said. Kantipur is Nepal's major independent media group.
Several protesters were killed in recent demonstrations as security forces used live ammunition, rubber bullets, and tear gas to disperse crowds. The United Nations condemned the excessive use of force against protesters, and the U.S. State Department recalled its embassy staff in Kathmandu.
"The violence of recent days illustrates the importance of an unfettered press to report the news and act as a safeguard against unnecessary government force," CPJ Executive Director Ann Cooper said. "We stand in solidarity with our colleagues in Nepal who have fought to restore press freedom, and we call on the government to stop attacking journalists."
In a separate incident on Thursday, armed Maoist rebels obstructed vehicles distributing Kantipur Daily in the eastern district of Siraha, according to the Federation of Nepalese Journalists. The vehicles were allowed to proceed only after local residents interceded on the newspaper's behalf. "All parties in this conflict," CPJ's Cooper added, "must halt their harassment of the press."