CPJ Update
Committee to Protect Journalists
March 17, 2006
In meeting with CPJ, Colombian president vows support for beleaguered provincial press

CPJ's deputy director, Joel Simon, and Americas program coordinator Carlos Lauría, met with Colombian President Alvaro Uribe Vélez at his campaign headquarters in Bogotá on March 15 to outline concerns about the risks facing the Colombian press.
At the urging of CPJ, Uribe released a statement expressing solidarity with provincial journalists who report under threat of violence and said that any official who impedes their work "is committing a crime against democracy."
Uribe also declared support for journalists who report on corruption and said that while violence against journalists had declined it remained a major concern of his administration. "We will not be content until we can say that there is not one journalist threatened or murdered," Uribe said. "What concerns me is that they keep killing journalists. This hurts me personally, and it hurts Colombia."
Uribe is seeking a second term as president in elections scheduled for May 28.
To read more: http://www.cpj.org/news/2006/americas/colombia15mar06na.html

Ethiopian prime minister promises CPJ delegation fair trials for jailed journalists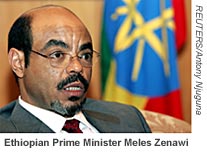 In a meeting with a CPJ delegation on March 9, Ethiopian Prime Minister Meles Zenawi, pledged that his government would give 14 jailed journalists charged with treason and genocide "their day in court" and a fair trial. Zenawi faces international criticism for cracking down on the press in recent months. The CPJ delegation included Africa Program Coordinator Julia Crawford, Charles Onyango-Obbo of Kenya's Nation Media Group, and Charlayne Hunter-Gault, a Johannesburg-based journalist and CPJ board member.
The delegation also visited Kality Prison on the outskirts of the capital Addis Ababa, where dozens of opposition leaders and at least 14 journalists are being held. The CPJ representatives were able to speak for an hour with the imprisoned journalists, all of whom professed their innocence. They have been in jail since November, when Ethiopian authorities launched a massive crackdown on the private press.
Learn more about the mission to Ethiopia: http://www.cpj.org/news/2006/africa/ethiopia14mar06na.html
CPJ on a rare visit to Saudi Arabia


CPJ Chairman Paul Steiger, Executive Director Ann Cooper and Senior Middle East Program Coordinator Joel Campagna visited Riyadh for three days in late February on a rare trip to Saudi Arabia. It was the second part of a research mission conducted by Campagna last year. The delegation met with Saudi government officials including the Information Minister, the spokesman for the Interior Ministry, and journalists from a variety of publications, to discuss the current state of press freedom.
Saudi newspapers now publish news stories that would have been unthinkable five years ago. Stories on crime, drug trafficking, and the security forces' battles with armed extremists have become regular fare though the changes have severe limits.
In a lunch briefing after the trip at CPJ's office, Campagna and Steiger said that while the Saudi government had eased restrictions on the domestic press since the September 11, 2001 attacks on the United States, and local journalists had seized the initiative to publish more daring reports, progress had been uneven. Enterprising coverage of central political issues such as the actions of the royal family, the influence of the religious establishment, and government corruption remained strictly off-limits, they said.
CPJ will issue a special report on the mission in the coming weeks. To read CPJ's 2005 Saudi Arabia country summary: http://www.cpj.org/attacks05/mideast05/saudi_05.html
CPJ releases three special reports:

• "Turkey: Nationalism and the Press" Senior Editor Robert Mahoney traveled to Istanbul to report on growing efforts by nationalists to silence journalists, writers, and academics who favor European Union membership by filing criminal complaints against them. Mahoney attended the trial of journalists charged under controversial Article 301 of the penal code with insulting "Turkishness." If convicted, they could face prison terms of six months to 10 years.
To read the report: http://www.cpj.org/Briefings/2006/turkey_3-06/turkey_3-06.html
• "Yemen: Attacks, Censorship, and Dirty Tricks" Senior Middle East Program Coordinator Joel Campagna describes the deteriorating press freedom climate in Yemen where at least two dozen outspoken journalists have been assaulted, imprisoned, or subjected to spurious criminal lawsuits in the past two years, signaling a dangerous escalation in the government's crackdown on the country's independent and opposition press.
To read the report: http://www.cpj.org/Briefings/2006/yemen_3-06/yemen_3-06.html
• "Mexico: Dread on the Border" Americas consultant Sauro González Rodriguez went to the drug-plagued Mexican border town Nuevo Laredo where unidentified gunmen recently fired assault rifles and tossed a grenade at the offices of El Mañana newspaper, gravely wounding reporter Jaime Orozco and causing heavy damage to the building. Written with Americas program coordinator Carlos Lauría, the report details the fear and self-censorship local journalists now endure, and the impact the recent appointment of a special prosecutor, a moved advocated by CPJ, may have on the situation.
To read the report: http://www.cpj.org/Briefings/2006/nuevo_laredo/nuevo_laredo.html