March 14, 2006
President Paul Biya
C/o The Embassy of the Republic of Cameroon
2349 Massachusetts Avenue NW
Washington, D.C. 20008
Via facsimile: (202) 387-3826
Your Excellency:
The Committee to Protect Journalists is troubled by the cascade of criminal cases filed against newspaper directors who published lists of supposed "secret homosexuals" in January and February. While readers may have been offended by publication of the lists in La Météo, L'Anecdote, and Le Soleil d'Afrique, the use of repressive criminal defamation and insult laws in this matter endangers press freedom in Cameroon.

At least one publication director has been sentenced to prison in connection with the published lists. Jean Pierre Amougou Belinga, director of L'Anecdote, was sentenced on March 3 to four months in jail and fined one million CFA francs (US$1,820) on a charge of criminal defamation. The case against him was brought by a cabinet minister, Grégoire Owona, who was named in one of the lists. Belinga, who is free pending appeal, was also ordered to pay symbolic damages of 1 CFA franc (less than 1 U.S. cent) to Owona.
According to local journalists, at least a dozen other criminal cases have been brought against Belinga and the other publication directors by individuals whose names were published. Authorities have alleged that the stories published by Belinga and others were intended to defame their targets. Belinga has stood by his decision to publish the names, claiming to be a crusader against homosexuality in Cameroonian society.
Regardless, criminal defamation statutes are the wrong tool to correct the problem and will only bring further attention to the published allegations. Better recourse can be obtained under civil statutes, which mandate damages paid to plaintiffs instead of jail time and fines paid to the state.
Further, we believe that criminal penalties for press offenses such as defamation threaten press freedom by leaving journalists vulnerable to criminal prosecution for what they write. The Committee to Protect Journalists has documented a number of cases in Cameroon in which local journalists were sentenced to jail for reporting on sensitive topics such as official corruption and abuses of power by security forces.
As an organization of journalists dedicated to defending the rights of our colleagues worldwide, we call on you to work for the development of civil laws that protect legitimate journalism while providing an internationally recognized form of redress for citizens of Cameroon who are wrongfully defamed. We also call on your administration to drop criminal charges against the publication directors.
Thank you for your attention to this important matter. We await your reply.
Sincerely,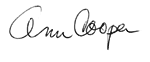 Ann Cooper
Executive Director