His Excellency Joseph Kabila
President of the Democratic Republic of Congo
Ngaliema, Kinshasa
Democratic Republic of Congo
c/o Embassy of the DRC to the United States
1800 New Hampshire Avenue, NW
Washington DC 20009
Via Facsimile: (202) 234-2609
Your Excellency:
The Committee to Protect Journalists is deeply troubled by the continued use of criminal statutes to jail Congolese journalists for reporting on allegations of corruption and other violations. Jean Pierre Phambu Lutette, managing director of the small private newspaper La Tolérance, was arrested on Friday on charges of insulting a local government official and "inciting tribal hatred," according to the local press freedom organization Journaliste en Danger (JED). He has since been transferred to the central prison in the capital, Kinshasa, where he joins publishers Jean-Louis Ngalamulume, in jail since January 27, and Patrice Booto, behind bars since November 2, 2005.
According to JED, which sent a representative to meet with Phambu Lutette, the charges against the journalist stem from an article that accused an official in charge of real estate documents of distributing a disproportionate number of deeds to members of his ethnic group. A trial has not yet been scheduled.
This is not the first time Phambu Lutette has been jailed for something published in his newspaper. He was arrested in July 2005 and held for three weeks on charges of "insulting a judge" and defaming the state prosecutor in an article alleging that judicial police in the southwestern city of Matadi had "terrorized" local residents, according to CPJ records. He was released after the case against him was withdrawn.
Ngalamulume, publisher of the private newspaper L'Eclaireur, is charged with printing "public insults" against another government official who manages real estate documents. The charge stems from an article that described the official as "incompetent" and "tribalistic."
Booto, publisher of the thrice-weekly Le Journal and its sister publication, Pool Malebo, faces charges of publishing "false rumors," "insulting the head of state," and "insulting the government." The state prosecutor has asked for a 12-month jail sentence, and Booto has been denied bail. Booto was charged after both newspapers published an article that claimed the government had given a large sum of money to Tanzanian education agencies while Congolese teachers were on strike for more pay.
Journalists reporting on corruption and human rights abuses in DRC face the constant threat of detention without due process, especially under the country's archaic defamation and "insult" laws. CPJ research shows a pattern whereby journalists are placed under provisional or "preventive" detention on charges brought by powerful political, military, and business figures. Most of these cases never go to trial, although detainees often remain in jail for weeks in appalling conditions and must post bail for their release.
As an organization of journalists dedicated to defending the rights of our colleagues worldwide, CPJ believes that the use of criminal statutes to harass, intimidate, and jail journalists for what they write has a chilling effect on press freedom and is thus incompatible with democracy. Individuals who feel defamed in the media can seek redress through civil law suits or hold a press conference to counter the accusations. Government officials must furthermore accept a degree of public scrutiny due to the nature of their positions.
We respectfully urge Your Excellency to do away with criminal sanctions for press offenses, and to work towards ensuring that journalists in the Democratic Republic of Congo are free to receive and impart information without fear of reprisal.
Thank you for your attention to this important matter. We await your reply.
Sincerely,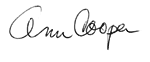 Ann Cooper
Executive Director