CPJ Update
The Committee to Protect Journalists
January 13, 2006
CPJ releases Attacks on the Press next month
Attacks on the Press, our annual worldwide survey, will be released at a press conference at the National Press Club in Washington, D.C., on Tuesday, February 14. We've moved up the release by a full month to make the edition timelier than ever. Covering 110 countries in 312 pages,
Attacks on the Press is widely considered the authoritative source on international press freedom conditions. This year's edition includes several new features, including analyses of emerging trends as reported by our program coordinators. Carlos Lauría examines vast self-censorship in Latin America. Joel Campagna investigates the surge in assassinations in the Middle East. Alex Lupis finds that U.S. policy undermines the press in Eurasia. Abi Wright charts the growing might of radio in Asia. And Julia Crawford explores the very different fortunes of two African democracies and their media.
Paul Steiger, CPJ chairman and Wall Street Journal managing editor, looks at the troubling news in the United States in the preface to this year's edition. And Executive Director Ann Cooper recounts some important victories in the struggle for justice in the murders of our colleagues. Attacks on the Press in 2005 will be released simultaneously on our Web site, www.cpj.org. Copies of the book will be available through Brookings Institution, http://www.brookings.edu.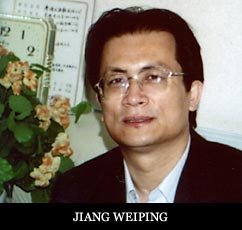 Press Freedom Awardee Jiang Weiping released Jiang Weiping, a recipient of CPJ's 2001 International Press Freedom Award, was released January 3 from a Chinese prison where he had been serving a five-year jail sentence on charges of "revealing state secrets." The sentence came as punishment for his aggressive reporting on government corruption in China's industrial northeast. His wife said Jiang was released one year early for good behavior.
CPJ campaigned actively for Jiang's release throughout his imprisonment. "While we welcome Jiang's release, his detention shows the arbitrariness of the Chinese criminal justice system," Cooper said. She called on the Chinese to stop imprisoning journalists for their work and to release the 31 who remain behind bars.
Read CPJ's statement on Jiang's release: http://www.cpj.org/news/2006/asia/china03jan06na.html Read why Jiang was honored with CPJ's Award in 2001: http://www.cpj.org/awards01/Jiang.html
With focus on regional advocacy, new Web site is launched
We've launched our newly redesigned Web site. The site puts greater focus on our regional advocacy, organizing all material by country and providing direct, home-page links to more than 100 nations. Mick Stern, our Web master and systems administrator, led the redesign, which was a product of more than six months of collaboration and planning. As always, you'll find us at www.cpj.org.

Cooper leads West Coast panel on human rights, media
Ann Cooper led a panel looking into the challenges facing independent media. The discussion was part of the semi-annual meeting of the International Human Rights Funders Group in San Francisco on January 9.
The discussion on "Human Rights and the Media: Threats and Opportunities" featured Moscow-based journalist Masha Lipman, along with nonprofit directors Malika Dutt of Breakthrough and Josh Silver of Free Press. Eighty representatives of human rights groups and foundations attended the meeting.
John Kowal of the Open Society Institute and Sjhalina Nataraj, of Reebok Human Rights Foundation, welcomed participants to the session. On January 10, Cooper and Lipman appeared at Stanford University to address the John S. Knight Fellows. The 20 journalists come from the United States and abroad, including the Philippines, Nepal, China, Poland and Colombia. Among this year's fellows is Daniel Coronell, a Colombian journalist who received death threats in connection with his investigative reporting on political corruption, drug trafficking, and civil war. CPJ helped bring Coronell to the United States through its journalist assistance program.
Wright named communications director; Dietz joins CPJ
Abi Wright has been named communications director after serving as CPJ Asia program coordinator for nearly three years. She traveled throughout the region to document press freedom abuses and report on breaking news. Wright served previously as CPJ's communications coordinator and is eager to expand CPJ's media coverage to further our advocacy. She will be responsible for increasing CPJ's visibility during our 25th anniversary this year. Before joining CPJ, Wright worked as a producer in the NBC News Moscow bureau, reported in Iran for an ABC News documentary, and traveled throughout the former Soviet republic of Georgia as a consultant for Internews.
Bob Dietz joins CPJ as Asia program coordinator after many years as a journalist in Africa, the Middle East, and Asia. He opened NBC's Manila bureau in 1986, just before the fall of President Ferdinand Marcos. Dietz worked for CNN in Atlanta and Hong Kong, and was senior editor at Asiaweek. Most recently, he was communications officer for the World Health Organization in the Philippines, Cambodia, China, Vietnam, and Indonesia, where he served as spokesman during the SARS epidemic and the avian flu outbreak.
Researchers recognized
Research associates Alexis Arieff of the Africa program, Kristin Jones of the Asia program, and Nina Ognianova of the Europe and Central Asia program have all been named senior research associates in recognition of their contributions to CPJ's mission.
CPJ thanks supporters
CPJ is extremely grateful for all the generous support it received during 2005. Your financial support allowed CPJ to monitor and respond to threats against the press around the world. Thank you for your partnership.