New York, January 30, 2006—A U.S. news anchor and a cameraman wounded by a roadside bomb in Iraq were flown to Germany today where doctors described their injuries as very serious. ABC World News Tonight co-anchor Bob Woodruff, 44, and ABC cameraman Doug Vogt, 46, were evacuated to a U.S. military hospital in Landstuhl, Germany after being attacked on patrol with an Iraqi army unit north of Baghdad on Sunday.
Col. Brian Gamble of Landstuhl Regional Medical Center said the two sustained "very significant injuries" and their condition was stable. ABC News President David Westin said families of the two had met with doctors, who "will continue to monitor their condition closely," according to a news release. "As we have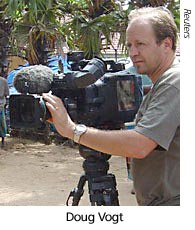 known, Doug is in somewhat better condition than Bob," Westin said. "… They may be brought to the United States for further treatment as soon as tomorrow."
A hospital spokeswoman said the two journalists showed signs of "slow improvement," The Associated Press reported.
"We continue to hope that these two journalists make a speedy recovery," said Ann Cooper, executive director of the Committee to Protect Journalists. "What these attacks show is that covering Iraq is fraught with risk. Whether reporters are embedded with military forces or working independently there is no escape from the danger."
The risk is borne out by CPJ statistics:
• At least 61 journalists and 23 media support staff have been killed for their work in Iraq since the U.S.-led invasion in March 2003.
• Four journalists embedded with military forces have been killed.
• Thirty-seven journalists have been kidnapped since April 2004 when insurgents began targeting foreigners for abduction.
• Of those abducted most were released and six were killed.
• One journalist, American Jill Carroll, is still being held by kidnappers.