January 12, 2006
Vicente Fox Quesada
President of Mexico
Los Pinos
Mexico City, Mexico
Via facsimile: 52- 55 – 52772376
Your Excellency:
The Committee to Protect Journalists is disappointed that a special prosecutor has not been appointed to investigate crimes against free expression despite your pledge to seek the position in response to a wave of murderous violence against the media in northern Mexico.

CPJ believes that the protection of free expression is crucial in the months leading up to the July presidential elections. A new legal framework would allow all Mexicans to express themselves freely and would protect the public's right to information about vital developments in your country.
During a meeting with a CPJ delegation in New York City on September 15, 2005 you called the appointment of a special prosecutor a "strong and good step forward" and pledged to meet with Attorney General Daniel Cabeza de Vaca to discuss the matter. We understand that you did discuss the creation of position with the attorney general but we are disappointed that four months after our meeting no one has been appointed.
CPJ had sent your office a proposal before the meeting, urging permanent involvement by federal prosecutors in the investigation of crimes against free expression. As proposed by CPJ, a special prosecutor would investigate violence or threatened violence aimed at preventing the right to free expression guaranteed by Articles 6 and 7 of the Mexican Constitution. The prosecutor would work under supervision of the attorney general.
The special prosecutor would evaluate crimes against free expression, determining which should be directly prosecuted by federal authorities and monitoring the progress of all cases. CPJ asked that the prosecutor's appointment be made in consultation with the media and with press and free expression organizations. The nominee, CPJ suggested, should be widely respected by all levels of Mexican society. During the September meeting, you also promised to consider the creation of a panel of national experts to evaluate how federal authorities could become more involved in fighting crimes against the press. In this case your government has also not taken action.
According to CPJ, northern Mexico — particularly the region along the U.S.-Mexican border — has become one of the most dangerous places in Latin America for journalists to work. Mexican journalists are targeted for their coverage of sensitive issues such as drug trafficking, organized crime, and political corruption.
Four Mexican journalists have been killed in direct reprisal for their work in the last five years, CPJ research shows. The organization is investigating the slayings of five other journalists, whose murders may also be related to their work. Yet another reporter–Alfredo Jiménez Mota of the Hermosillo daily El Imparcial–has been missing since April 2, 2005 and is feared dead.
State investigations of journalist murders have stalled or moved forward only sluggishly, CPJ research shows. State and local authorities are more prone to corruption, have fewer resources, and are subject to less accountability, CPJ found.
Mexico's justice system has failed to bring an end to this cycle of violence and appears far from solving any of the recent murders. The fact that most of these cases remain unsolved has perpetuated a climate of impunity that leaves the media open to continuing attack and limits discussion of vital issues of national importance.
CPJ recognizes that your government has taken importance steps to improve the press freedom climate in Mexico. Journalists based in Mexico City and other large urban centers have been able to report freely on government, crime, and corruption. Furthermore, your government supported the Law on Transparency and Access to Public Information which has generated greater public accountability.
We urge you now to take the additional step of ensuring that journalists and others throughout the entire country are free to write and speak without fear of reprisal. This action is not only essential for securing your personal democratic legacy but also a legal requirement as the Mexican Constitution obligates the state to guarantee the "right to information."
You have said repeatedly that violence against the press is a national problem, and pledged your administration's commitment to protect journalists. We urge you to use the power of your office to expedite the nomination of a special prosecutor so that citizens in Mexico could have a legal framework that provides protection for freedom of expression.
Sincerely,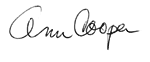 Ann Cooper
Executive Director