CPJ Update
December 16, 2005
News from the Committee to Protect Journalists

---
More countries jail journalists this year; US near top of list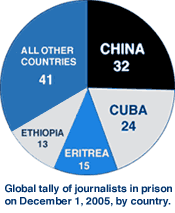 The findings of CPJ's annual survey on journalists imprisoned around the world are disturbing. More journalists are in jail this year than last and more countries are detaining them. China topped the list as the leading jailer of journalists for the seventh year in a row – followed by Cuba, Eritrea, Ethiopia, and Uzbekistan.
The survey found that most journalists are held on "anti-state" allegations or "criminal defamation" charges. But no charges have been lodged against the five journalists in U.S. custody. Four journalists being held in Iraq and one at Guant·namo Naval Base in Cuba and are said to be security risks. The United States appeared near the top of the inventory, tied for sixth place with Burma.
CPJ's survey, released December 13, is a snapshot of all those in prison because of their work as journalists on December 1, 2005. It does not include those who were held and released during the year. CPJ conducted its annual census of imprisoned journalists a month earlier than in the past, in order to provide a more timely year-end analysis.
Read a complete list and analysis of the cases.
Fear leads to self-censorship in Latin America
CPJ Americas Program Coordinator Carlos Lauría told participants at a symposium in Washington on December 8 that self-censorship is one of the biggest hindrances to press freedom in parts of Mexico and Colombia where the state has little presence. LaurÌa said investigative journalists fear physical retaliation in areas of northern Mexico along the border with the United States, and in conflict regions in the provinces of Arauca, Córdoba, and Caquetá, Colombia.
The Inter-American Dialogue symposium on "Press Freedom in Latin America and the Caribbean" was sponsored by Minnesota Senator Norm Coleman. Participants included Roberto Saba of the Association for Civil Rights in Argentina; Jose Miguel Vivanco of Human Rights Watch-Americas; and William E. Casey, Jr., Treasurer of the Inter American Press Association (IAPA) and Vice President of Special Editions at The Wall Street Journal. Participants also explored the role of U.S. policy in shaping regional politics and "democratic advancement."
Read a CPJ report on Colombia's news media.
CPJ gave direct aid to 68 journalists in 2005
CPJ's Journalist Assistance Program gave direct aid to more than 68 individuals from 28 countries in 2005, including Iraq, the Gambia, Somalia, the Dominican Republic, Cuba, Bangladesh, Nepal, and Afghanistan. Journalist assistance coordinator Elisabeth Witchel reports that CPJ helped journalists in Uzbekistan and Ethiopia flee crackdowns against the media in their countries, provided legal fees to journalists facing harassment in Russia, and sent funds to three journalists in, or recently released from, prison. CPJ also arranged for two journalists who were in danger in Rwanda and Colombia to obtain journalism fellowships in the United States.
The assistance fund also provided help when two major natural disasters ravaged media communities in Indonesia and Pakistan.
CPJ was responsible for the distribution of more than $200,000 in direct assistance to journalists in danger. More than $35,000 came from CPJ's own distress fund, with the remaining money coming from the Correspondents Fund, the Hellman-Hammett Fund, the Netherlands Association of Journalists, and individual donors and funding for the Knight Senior Research Fellowships which CPJ administers.
CPJ attends information summit in Tunisia
CPJ Web Master Mick Stern found that Tunisian President Zine El-Abidine Ben Ali's desire for good public relations couldn't keep his authoritarian instincts in check when the World Summit on the Information Society met in Tunisia in mid-November. Stern attended the conference where some 15,000 representatives from governments, businesses, and NGO's around the world gathered to discuss the future of the Internet.
The conference was marred by several incidents of heavy-handed police action. The excessive security measures came as no surprise in a country that censors the media and jails journalists. For Stern's report on the strong-arm tactics at the conference and the situation in Tunisia in general, see "Night in Tunisia."
Awardees make the news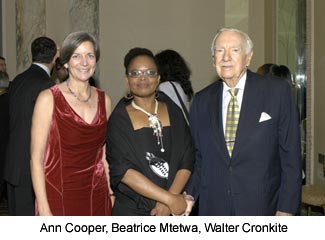 From NPR's Talk of the Nation to Voice of America's Uzbek and Africa program services, CPJ's International Press Freedom Award-winners Galima Bukharbaeva and Beatrice Mtetwa filled the airwaves with discussions about press restrictions in their countries (Uzbekistan and Zimbabwe) and the battle for democratic freedoms. The awardees not only advocated for press freedom in Washington and New York while they were in the United States to accept their awards, they also brought into sharp focus the need for vibrant news media in a series of broadcast and print interviews. See a Washington Post editorial on the awards.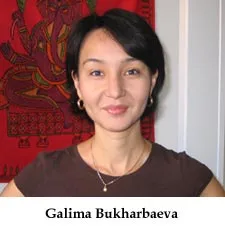 In addition to interviews given by Mtetwa, Bukharbaeva, CPJ Executive Director Ann Cooper and other staff members, the awards dinner itself was covered by about a dozen news organizations including the Associated Press, The New York Times, CNN and The NewsHour with Jim Lehrer, which plans to broadcast a segment on the awards on December 19.
Help CPJ with year-end gifts
A new law allows donors to deduct qualified charitable cash gifts in amounts up to 100% of their Adjusted Gross Income. Normally, deductions for such gifts are limited to 50% of Adjusted Gross Income and subject to other limits. Several key provisions should be noted:
• Gifts must be outright and in cash to qualify. Gifts of stock or other appreciated property do not qualify.
• Gifts must be made directly by the donor to a qualified public charity and be made between August 28 and December 31, 2005. Gifts from a private foundation, supporting organization, or donor-advised fund do not qualify.
• These outright gifts of cash are not subject to the 3% limit on itemized deductions for higher income donors.
The Committee to Protect Journalists is a qualified public charity and welcomes gifts from its supporters. Please consult your tax and/or legal advisors to determine if this tax-savings opportunity can benefit you as you plan your year-end giving.
You can make your year-end gift online at www.cpj.org.