New York, December 2, 2005—The Committee to Protect Journalists condemns the assault and harassment by Egyptian authorities of journalists covering parliamentary elections. CPJ sources and press reports confirm over a dozen cases in which journalists have been attacked, detained, or prevented from working since the first round of voting in the three-round election began on November 8.
The ruling National Democratic Party and security forces have ordered supporters to beat and harass voters and journalists, the CPJ sources and press reports said. Harassment has increased as Muslim Brotherhood members, whose candidates run as independents because the authorities have barred them from forming a party, have gained ground.
Police have fired rubber bullets and tear gas to disperse crowds outside polling places and prevented some voters from reaching polling booths, the sources said. Journalists covering these events were assaulted or jostled by security forces who confiscated tapes and equipment, and who briefly detained some reporters.
"It is outrageous that Egyptian authorities should tolerate the harassment and intimidation of journalists covering an election," said CPJ Executive Director Ann Cooper. "We call on the government to ensure that all harassment of the local and foreign media stop immediately."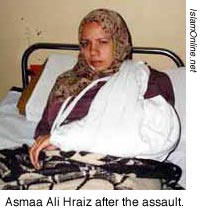 On November 26, Asmaa Ali Hraiz, a reporter for the opposition weekly newspaper Al-Karama, was attacked, blindfolded and kidnapped near a polling station in the city of Shoubra al-Kheima, north of Cairo, by security agents, the paper's editor-in-chief, Jamal Fahmy, told CPJ. Her kidnappers told her they were from the state security service and they took her cell phone, camera and a gold necklace. They threatened to rape her. The officer in charge ordered two female assailants to beat Hraiz unconscious. She was then dumped under the Six October Bridge in Cairo. She suffered broken ribs, serious injuries to her right arm, and bruises on the spine. The attack was reported to the Attorney General's office, but no investigation has been launched, according to Fahmy.
On December 1, Ahmad Bayoumi, a freelance reporter for the Arabic satellite channel Al-Jazeera, and the channel's cameraman Mohammad Ezzedin were assaulted at the Ben Aibad polling station in Mansoura, north of Cairo, by supporters of the National Democratic Party candidate Hassan al-Neer. Bayoumi was punched in the face and kicked in the back, while Ezzedin was shoved and pushed. They were threatened with knives and told to leave the area immediately. Security forces detained Mahmoud al-Maleegy, cameraman for Al-Jazeera, in the Nile delta town of Kafer Sheik, for an hour. They destroyed his camera and tape.
Security officers in civilian clothing held Amil Khan, a British citizen and correspondent for Reuters, at a polling station in Sandoub, 75 miles (120 kilometers) north of Cairo, for an hour. They questioned the authenticity of his press card and demanded to see his passport. After Khan began telephoning the Ministry of Information and the British embassy they let him go.
The Muslim Brotherhood has made significant gains, winning 76 seats so far, nearly five times the seats the group held in the last parliament. However, it won no seats in the final election round after police barred thousands of their supporters from voting.