Dear Mr. Secretary-General:
The Committee to Protect Journalists calls on you to take urgent action to ensure that the recent murders and attempted murder of journalists in Lebanon are investigated by the United Nations.
The United Nations Security Council passed a resolution last week authorizing the International Independent Investigation Commission now probing the February 2005 assassination of former prime minister Rafiq al-Hariri to "extend its technical assistance" to Lebanese authorities for their investigations into attacks on journalists and other political figures over the past year. It also called on you to "present recommendations to expand the mandate of the Commission to include investigations of those other attacks."
While CPJ was disappointed by the failure to unambiguously extend the Commission's investigation into these other attacks, we welcome the fact that the Security Council has linked the Hariri probe with other murders and attempted assassinations in Lebanon, including those of prominent journalists. We hope the resolution will quickly pave the way for a comprehensive investigation that sheds light on those behind these appalling attacks.
Since Hariri's assassination and the launch of the U.N. inquiry, Gebran Tueni, managing director and columnist of the daily Al-Nahar, and his fellow Al-Nahar columnist Samir Qassir, have been killed in car bombings. Lebanese Broadcasting Corporation talk show host May Chidiac was maimed in another car bombing. They were all known for their outspokenness against the Syrian government and its allies in Lebanon. The attacks against them have sown fear among Lebanese media professionals and political critics.
These brazen, unsolved attacks on journalists pose a grave threat to freedom of expression and the press both in Lebanon and in the Middle East. By taking swift action to investigate these crimes and identify the perpetrators, the United Nations would send a powerful message to those who murder journalists that the international community will hold them accountable for their actions. At the same time, failure to act decisively will embolden enemies of the press and of free expression by demonstrating that murder can be an effective tool to silence critical voices.
We therefore call on you to immediately present recommendations to the Security Council for the expansion of the mandate of the Commission and to ensure that the investigations into the murder and attempted murder of journalists is incorporated into its mandate.
Doing so would show a firm commitment by the international community that it will not tolerate the murder of journalists.
Thank you for your attention to this important matter. We look forward to your reply.
Sincerely,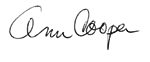 Ann Cooper
Executive Director