Your Excellency:
The Committee to Protect Journalists urgently calls on the United Nations Security Council to expand its current probe into the February 2005 murder of former Lebanese Prime Minister Rafiq al-Hariri to include alarming, unsolved attacks against Lebanese journalists in recent months.
Since al-Hariri's murder and the launch of the UN inquiry, a prominent Lebanese columnist was killed in a car bomb and a second journalist was maimed. They are:
• Samir Qassir. On June 2, columnist Qassir was killed in a car bombing outside his home in Beirut. In his popular column for Al-Nahar newspaper, Qassir was a vigorous critic of the Syrian government and its Lebanese allies. He wrote extensively about the need for Lebanese independence, challenged the security order in Lebanon, and highlighted the inability of Syrian President Bashar al-Assad to bring about real political reform. He was frequently threatened and harassed for his outspoken writing about the Lebanese security apparatus.
• May Chidiac. On September 25, Chidiac, a political talk show host with the Lebanese Broadcasting Corporation, lost an arm and a leg when a bomb exploded under the driver's seat of her car near the port city of Jounieh. On the morning of the attack, Chidiac hosted a show addressing Syria's possible involvement in al-Hariri's assassination and fears of violence ahead of the report by UN investigators into the killing.
These appalling attacks have cast a deep chill on freedom of expression and the press in Lebanon. Many Lebanese journalists have interpreted the attacks as warnings against politically sensitive coverage; editors told CPJ that the attacks have produced widespread fear and self-censorship. To date, no arrests have been made and Lebanese journalists and human rights activists have expressed skepticism about the ability of Lebanese authorities to successfully identify and prosecute those behind the attacks.
These attacks appear to be part of larger conspiracy that is targeting Lebanese politicians and other critical voices in Lebanese society. Prime Minister Fouad Siniora told Lebanese and international news organizations last month that "there is no doubt" that the attacks on journalists and others are related to the UN investigation into al-Hariri's assassination.
As you know, the UN's special investigator in Lebanon, German prosecutor Detlev Mehlis, is expected to release the findings of his investigation into al-Harriri's murder later this month, and some press reports have suggested that Mehlis' mandate may be extended until mid-December. By expanding the scope of the current UN investigation, the Security Council would send a strong message that the international community will not tolerate the murder of journalists. We believe that UN investigators, who have already spent months on the ground as part of the current probe, are well positioned to expand their inquiry to encompass these attacks against journalists. A new Security Council mandate would be an important step toward helping to identify those responsible for these heinous crimes and bringing them closer to justice. The failure to send a strong message threatens to further undermine press freedom in Lebanon and the region and would only encourage further attacks.
We call on the Security Council to take the necessary steps to authorize the expansion of the special investigator's mandate to investigate these alarming attacks.
Thank you for your attention to this urgent matter. We look forward to your reply.
Sincerely,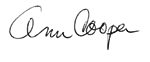 Ann Cooper
Executive Director