CPJ Update
August 15, 2005
News from the Committee to Protect Journalists
---
On the Radio, Under the Gun
CPJ's Abi Wright describes the corruption and lawlessness fueling an unprecedented wave of murders of Philippine radio journalists in a new, in-depth report, "On the Radio, Under the Gun," released on Monday. Seventeen radio commentators from rural provinces have been shot and killed since 2000 in retaliation for what they said on the air, Wright found, making the Philippines the most murderous country in the world for journalists.

Wright, CPJ's Asia program coordinator, interviewed more than 40 journalists, analysts, and government leaders during a 10-day mission to the Philippines. Not a single suspect has been convicted in any of the killings. Government officials are suspected of involvement in half of the cases. Under threat from powerful officials and warlords, witnesses are often too fearful to testify. Many journalists also pointed to an absence of standards in their own profession, particularly among "block-timers" who lease airtime from station owners.

To read the report: http://www.cpj.org/Briefings/2005/phil_05/phil_05.html

Moonves, Page lead benefit
We're very pleased to announce that CBS Chairman Leslie Moonves is serving as chairman of this year's International Press Freedom Awards Dinner. Board member Clarence Page, who helped lead a CPJ delegation to the Gambia this year, will serve as host of the 15th annual event. Make sure to save the date, November 22. The evening begins with a reception at 6:30 p.m. at the Waldorf-Astoria.


A rare glimpse into the Saudi kingdom
Joel Campagna, our senior program coordinator for Middle East and North Africa, met with more than 30 journalists and writers during a two-week visit to Saudi Arabia last month–the first of its kind by the Committee to Protect Journalists. Campagna is working on the details of a follow-up visit in late fall, followed by an in-depth report based on these rare glimpses inside the kingdom.

Here are Campagna's initial impressions from the field:
"Last year, then-Crown Prince Abdullah called for a process of 'gradual' political and social reform, so reform was on the minds of many of the journalists I met. The Saudi press has made important gains since the September 11, 2001, terrorist strike against the United States, and the May 12, 2003 suicide bomb attack in Riyadh. Today, Saudi newspapers publish news and opinions unthinkable just five years ago.

"Yet the margin of freedom 'is given and taken away,' in the words of one Saudi academic, whose columns have been banned from the country's newspapers. In fact, many journalists and writers point out that press freedoms, while markedly improved from the 1990s, have regressed in the last 18 months. Several writers and intellectuals have been barred from writing in the press or speaking to the media. Journalists describe editorial and government pressure when they write about sensitive topics such as the country's religious establishment. Self-censorship, they say, has increased."

Steiger, Brokaw visit Miller in prison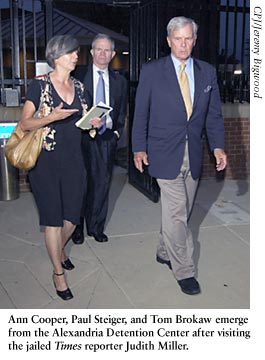 Chairman Paul Steiger, board member Tom Brokaw and Executive Director Ann Cooper expressed CPJ's support in a visit with imprisoned New York Times reporter Judith Miller at the Alexandria, Va., Detention Center late last month. The CPJ delegation spoke to Miller for a half hour by intercom though a clear plastic partition.
"There's no good purpose in keeping this dedicated, honorable, committed professional in jail," Steiger said after the July 28 visit.
Miller praised the professionalism of the detention center staff and said she reads and writes regularly. She said has been able to go outside only infrequently; the crowded facility is subjected to random lockdowns for security reasons.
Our board issued a statement at the same time, saying it "strenuously protests" Miller's July 6 imprisonment. By jailing Miller, our board said, "the U.S. government is not only undermining the ability of a free press to function in this country but also sending a signal to other governments that such a course is acceptable when dealing with journalists of whose actions they do not approve."
The Times cited CPJ's research in an August 8 editorial that outlined the international implications of the case. CPJ Washington representative Frank Smyth described the damaging message of the U.S. case in a July 2 op-ed in the International Heard Tribune.
For details of the July 28 visit: http://www.cpj.org/news/2005/USA28july05na.html
To read Smyth's op-ed: http://www.cpj.org/op_ed/comment_fsmyth_30june05.html
Solidarity in Lebanon

Kamel Labidi, our Middle East/North Africa consultant, traveled to Beirut in July in the aftermath of the car-bomb killing of columnist Samir Qassir. Meeting with editors, journalists, and members of Qassir's family over several days, Labidi expressed CPJ's solidarity and reiterated our call to bring the perpetrators to justice. He also represented CPJ at a memorial ceremony for the slain writer.
"Many in the Arab world can learn much from Qassir's legacy," Labidi wrote in a July 28 op-ed in The Daily Star of Beirut. "Rightas groups in particular would gain credibility if they joined forces with internationl rights groups now pressing for an independent investigation into the journalist's murder and for the prosecution of those responsible."
To read Labidi's op-ed: http://www.cpj.org/op_ed/Labidi28july05.html
Staff news
We're pleased to welcome Robert Mahoney as senior editor. Mahoney (pronounced MAH-nee) has been an editor and reporter for Reuters in Jerusalem, Abidjan, Delhi, Jakarta, Singapore, and Paris. His most recent posting for Reuters was in London, where he was news editor in charge of politics and general news for Europe, Africa, and the Middle East. Mahoney has served as an editorial trainer for the Reuters Foundation, teaching reporting and writing to journalists in the Middle East. He has also worked as a consultant for Human Rights Watch, producing that organization's recent report on human rights violations in Ivory Coast.