CPJ Update
July 15, 2005
News from the Committee to Protect Journalists

---
Murders and missions
CPJ staff and board members have been in many corners of the world in the past month, pushing advocacy in the field and following up to ensure action.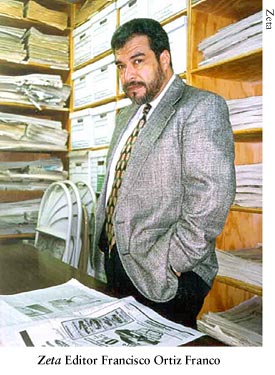 In Mexico City: Meeting with a top federal prosecutor, a CPJ delegation expressed concern about the slow pace of investigations into the murders of Mexican journalists. At least four journalists have been killed in direct reprisal for their work in the last five years, and CPJ is investigating the slayings of five others whose murders may be related to their work. The prosecutor's office agreed to update CPJ on future case developments.
Our delegation included board member Andrés Oppenheimer, Deputy Director Joel Simon, Americas Program Coordinator Carlos Lauría, and prominent Mexican journalists Rossana Fuentes and Jorge Zepeda. We submitted a detailed analysis of the murder cases documented by our staff since 2000, the year Vicente Fox was elected president. Fox has publicly recognized the problem of violence against reporters and said his government is dedicated to protecting them. Fox pledged to meet with CPJ in September.
The delegation also learned details of the government's investigation into the June 2004 killing of Tijuana editor Francisco Ortiz Franco. Read our report:
In Moscow: Executive Director Ann Cooper, board member Jane Kramer of The New Yorker, Senior Europe Program Coordinator Alex Lupis, and CPJ Research Associate Nina Ognianova convened a conference of relatives and colleagues of journalists murdered in Russia. The conference drew wide international attention to what Cooper called "a deplorable era of impunity" in the murders of journalists during President Vladimir Putin's tenure. Twelve journalists have been slain in contract-style killings in Russia since 2000, and no one has been brought to justice.
Relatives and colleagues discussed ways to cooperate and push for government action, issuing a statement called the "Moscow Declaration." Read their declaration.

In New York: Africa Program Coordinator Julia Crawford is pushing the Gambian government to hand over to an independent commission the flawed investigation into the 2004 murder of editor Deyda Hydara. Crawford, Simon and board member Clarence Page traveled to Banjul in April to meet with Gambian National Intelligence Agency officials. Investigators later recounted numerous allegations about Hydara's private life in an official status report, but described no progress in identifying suspects.
Read our letter to President Yahya Jammeh seeking an independent probe.
Health of jailed Cuban journalists declines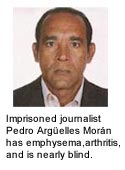 Several imprisoned Cuban journalists have seen their health worsen since their unjust jailing in 2003, and others have contracted new illnesses behind bars. In a series of interviews with relatives of the jailed writers and editors, Americas Senior Research Associate Sauro González found that at least seven of the 23 jailed journalists suffer from serious ailments ranging from heart disease to emphysema to high blood pressure. Relatives complained about the journalists' poor diet and inadequate health care. Many of these jailed journalists are held hundreds of miles from their homes, adding to the heavy burden on their families.
Cuba is one of the world's leading jailers of journalists, second only to China. In March, 107 prominent Latin American journalists and writers joined CPJ in a letter to President Fidel Castro, calling for the immediate and unconditional release of all imprisoned Cuban journalists.

Read our report.

Joining forces in Nepal
Our new Asia consultant, Shawn Crispin, is traveling in Nepal this week with representatives of nine international organizations to discuss the government's sweeping, ongoing censorship of the media. The delegation is meeting with government, army, civil society, and media representatives, and it will participate in a national conference on freedom of expression in the capital, Kathmandu.
Joining CPJ are representatives from UNESCO, the World Association of Newspapers, World Association of Community Radio Broadcasters, Reporters Without Borders, the International Press Institute, International Media Support, the International Federation of Journalists, and the anticensorship group Article 19.
In April, Cooper and former BBC reporter Daniel Lak interviewed editors, reporters, photographers, and media executives in Kathmandu and Nepalgunj. They found that King Gyanendra's government had used "emergency" restrictions, threats, and harassment to set sharp limits on print reporting and all but obliterate the nation's once-vibrant radio reporting.

Read Lak's special report.
A landmark case in Thailand
Crispin will also monitor a landmark freedom of expression case in Thailand, where media reform advocate Supinya Klangnarong goes on trial this month on criminal defamation charges.
Her crime: Noting that the Shin Corp's profits had more than tripled since Prime Minister Thaksin Shinawatra took office, and raising questions about potential conflict of interest between Thaksin's public duties and his family's private interests. Shin is the very profitable communications conglomerate founded by Thaksin and majority owned by his family.
International Network begins
Crispin is part of our new International Program Network, which includes regional representatives in all program areas. Our Middle East/North Africa consultant, Kamel Labidi, travels to Beirut this month in the aftermath of the June car-bomb killing of columnist Samir Qassir.
Our stringer in Colombia, Chip Mitchell, has interviewed several dozen journalists in various parts of that country, where years of violence and intimidation at the hands of armed groups and drug traffickers has promoted a pervasive culture of self-censorship. He is preparing a special report. Brazilian stringer Claudia Duarte is researching press freedom abuses in Brazil.
In Russia, Masha Yulikova spent several months organizing our Moscow conference of relatives and colleagues of slain journalists. She will also monitor court proceedings for two suspects in the 2004 murder of Forbes Russia editor Paul Klebnikov.
Tidiane Sy is monitoring the press abuses in West Africa–particularly in Togo, where government censorship and attacks on private media intensified after the April presidential election.
Spanish translation of security guide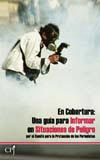 CPJ released the Spanish-language version of its journalist security handbook, "On Assignment: A Guide to Reporting in Dangerous Situations" in Lima this week. Frank Smyth, CPJ's journalist security coordinator and author of the handbook, officially launched the new edition and helped lead a panel discussion of journalist security issues.
He was joined by investigative reporter Gustavo Goritti, president of the Peruvian press freedom group, Instituto Prensa y Sociedad, and editor with Peru's La Republica; Carolina Cayazzo, Buenos Aires bureau chief for CNN en Español; and Alejandro Miró Quesada, president of the Inter American Press Association.
The new edition was made possible by a grant from CNN. It updates material in CPJ's handbook, first published in 2003, and addresses issues of particular concern to journalists in Latin America. Download or read a PDF copy of the Spanish edition.
CPJ released an Arabic edition of the handbook at a press conference in Doha, Qatar, in May.
Development News
We are grateful to the Open Society Institute for its $20,000 grant to fund CPJ's mission to Moscow. We'd also like to thank the Park Foundation for its generous gift.