Your Excellency:
The Committee to Protect Journalists is gravely concerned by the detention in Kabul of journalists Rohullah Anwari and Shershah Hamdard, who were arrested while reporting on events in eastern Afghanistan's Konar Province for the news agency Radio Free Europe/Radio Liberty (RFE/RL). The two reporters have been held for roughly one week; authorities have not disclosed charges against them or produced evidence of wrongdoing.
Security agents arrested Rohullah Anwari, Konar-based reporter for the U.S.-government funded RFE/RL, and Shershah Hamdard, an RFE/RL reporter based in Jalalabad, while they were covering the aftermath of the crash of a U.S. military helicopter that was shot down on June 28. Anwari was arrested on July 1 and Hamdard on July 2 in Asa'ad Abad, the capital of Konar Province, according to officials from their news agency. Authorities searched Hamdard's house in Jalalabad before arresting him.
Another journalist for a Western news agency was arrested along with his driver in Asa'ad Abad on July 2 and transferred along with the two RFE/RL reporters to the custody of state security agents in Kabul, according to CPJ sources. That journalist and his driver were released on July 5. The news agency has requested that their identities not be made public.
Anwari and Hamdard remain in custody in the capital, RFE/RL Kabul bureau chief Mohamed Amin Mudaqiq told CPJ. Authorities confiscated the reporters' equipment as part of their investigation.
On July 2, Mudaqiq wrote a formal letter of inquiry to Amrullah Saleh, the director general for national security, requesting written explanations for the detention of the two RFE/RL reporters. He has not received a response.
Rahimullah Samander, president of the Afghan Independent Journalists' Association (AIJA) and the Committee to Protect Afghan Journalists (CPAJ), visited the two jailed reporters on July 4 and reported that they were being held in tight quarters in extreme heat. AIJA and CPAJ have protested the journalists' detention. (CPAJ is not affiliated with our organization.)
Your Excellency, it is a primary duty of journalists in Afghanistan to report on the ongoing military conflict there. Anwari and Hamdard were arresting while reporting the news from Konar Province, a region in eastern Afghanistan where increased violence calls for the careful attention of the press.
Authorities have produced no evidence that the two reporters were involved in any activities other than fulfilling their journalistic responsibilities. As an organization of journalists dedicated to defending the rights of our colleagues worldwide, we are concerned that Anwari and Hamdard were arrested for doing their jobs and we call for their immediate release.
Thank you for your attention to this urgent matter. We await your response.
Sincerely,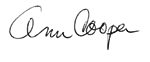 Ann Cooper
Executive Director