CPJ Update
June 15, 2005
News from the Committee to Protect Journalists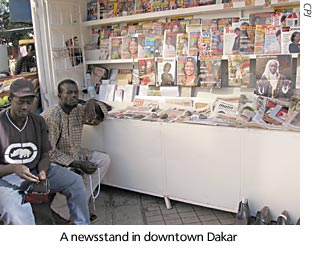 In Senegal, freedom has limits
Senegal enjoys a reputation for having one of the freest presses in Africa, but the government maintains repressive laws that can be used to imprison journalists for what they write. Alexis Arieff, CPJ's Africa research associate, traveled to Dakar last month to document journalists' fight to reform the laws used to jail reporters. Arieff interviewed senior government officials, analysts, and reporters for her special report, "Freedom … With Limits." Among those interviewed was Madiambal Diagne, the owner and managing editor of Le Quotidien who was imprisoned last year after writing about alleged executive interference in the judiciary.

To read our special report: http://www.cpj.org/Briefings/2005/senegal_05/senegal_05.html

CPJ travels the world
Our staffers will undertake several missions around the world in the coming weeks. Asia program coordinator Abi Wright travels this week to the Philippines, where 20 journalists have been slain for their work since 2000. On May 3, CPJ named the Philippines the world's "most murderous country" for journalists, prompting the government to intensify its investigations into the slayings. Lin Neumann, executive editor of the Hong Kong-based Standard and a former CPJ staffer, and Roby Alampay, executive director of the South East Asian Press Alliance, will accompany Wright.

Carlos Lauría, our Americas program coordinator, Deputy Director Joel Simon, and board member Andres Oppenheimer travel this month to Mexico. Mexican reporters, especially those on the drug-infested U.S.-Mexico border, are working under increasingly dangerous conditions. The CPJ delegation will meet with federal prosecutors in Mexico City to discuss the cases of several murdered journalists. Federal authorities have taken over several cases because the killings are believed related to organized crime.

Alex Lupis, senior program coordinator for Europe and Central Asia, travels to Russia in July with Executive Director Ann Cooper, research associate Nina Ognianova, and board members David Marash and Jane Kramer. CPJ has convened a conference to bring together the relatives and colleagues of the 11 journalists slain in contract-style murders in Russia since 2000. No one has been brought to justice in any of the slayings. The conference will seek ways in which CPJ and the victim's colleagues and families can work together to bring about justice. We're grateful to the Open Society Institute for giving $20,000 to fund CPJ's mission to Russia.

To read more: http://www.cpj.org/Briefings/2005/russia_murders/russia_murders.html


Our reporting makes news
CPJ staffers have been interviewed by more than a dozen international news outlets in the past month, including the Washington Post, CNN, The Guardian of London, Al Hurra Television, the Hong Kong Standard, and the Spanish national radio station Cadena Ser. An op-ed by Asia research associate Kristin Jones, which detailed China's continuing crackdown on independent journalists, was published this week in the South China Morning Post.
From Montreal to Ottawa, newspapers throughout Canada have reported on Julia Crawford's investigation into the missing-person case of Guy-André Kieffer. The French and Canadian journalist vanished in Ivory Coast last year in a case that has generated questions and controversy across the world. Crawford, CPJ's Africa program coordinator, detailed the Kieffer case in the cover story of the new issue of our magazine, Dangerous Assignments.
To read Crawford's story: http://www.cpj.org/Briefings/2005/DA_spring05/missing_DA/missing_DA.html
To read Dangerous Assignments as a pdf: http://www.cpj.org/Briefings/2005/DA_spring05/DA_spring_05.pdf
To order a copy of Dangerous Assignments, contact us at [email protected].
Journalists from several Arab-language publications–including Al-Hayat, a leading pan-Arab daily newspaper–covered the launch of the Arabic version of our journalist security handbook, "On Assignment: A Guide to Reporting in Dangerous Situations." Frank Smyth, our journalist security coordinator, launched the edition in Doha, Qatar, last month.
A pdf version of the guide is available at: http://www.cpj.org/regions_05/mideast_05/safety_guide_arabic.pdf

Tales from Zimbabwe
CPJ will host a luncheon at its offices on Friday featuring the award-winning journalist and author Andrew Meldrum. Meldrum, a friend and colleague, worked for more than two decades in Zimbabwe before being expelled in May 2003. His new book, "Where We Have Hope: A Memoir of Zimbabwe," has just been released by Atlantic Monthly Press. For information about attending, contact us at [email protected].
Save the date
It's time to mark your calendar. This year's International Press Freedom Awards dinner will be Tuesday, November 22, at the Waldorf-Astoria in Manhattan. CPJ will honor journalists who have risked their lives to report the news. To purchase a table or reserve a ticket, contact us at: [email protected].