Your Excellency:
The Committee to Protect Journalists is deeply troubled by ongoing government censorship and attacks on private media in the aftermath of the April 24 presidential election, of which you have been pronounced the winner. Local journalists told CPJ that many phone lines were cut and Internet connections remain tenuous, making it difficult to report ongoing events to the world.
Since April 24, at least three radio stations in the capital, Lomé, have been shuttered by authorities; a fourth has complained that its broadcasting signal is being scrambled; and two other radio stations were ransacked and torched during violent riots that followed the election. In addition, the FM transmission of Radio France Internationale (RFI) was cut during the aftermath of the election and has not been re-established, sources at RFI confirmed.
According to CPJ sources, Togo's High Audiovisual and Communications Authority (known by its French acronym, HAAC) suspended Radio Maria, a Lomé-based Catholic radio station, and Radio Nostalgie, an independent broadcaster, for one month starting on April 25. The suspensions stemmed from broadcasts stating that the government had imposed a citywide curfew in Lomé; Faustin Yigbe, the director of Radio Maria, told CPJ that he later corrected the announcement on-air, saying that the station had received false information. At a press conference following the closure, Communications Minister Pitang Tchalla alleged that the announcement of a curfew might cause the population to panic, Yigbe said.
The HAAC also suspended the independent, Lomé-based Kanal FM for one month, beginning April 20, after the station broadcast an editorial that heavily criticized the electoral campaign of Your Excellency's RPT party. The HAAC called the piece "tendentious, defamatory and insulting."
The independent radio station Nana FM, also based in Lomé, stopped broadcasting on April 26 after receiving threats, sources at the station told CPJ. After Nana FM resumed limited broadcasts on May 9, employees discovered that its signal was being scrambled. Peter Dogbe, the station's director, told CPJ that he made a formal complaint to Togo's telecommunications regulatory authority, which is investigating the source of the interference.
On April 25, Radio Lumière, which is based in the southern coastal town of Aného, was ransacked and torched during violent rioting. The same day, Radio La Paix, based in the central town of Atakpamé, was also ransacked and burned. While CPJ was not able to confirm who was responsible for these attacks, they merit a thorough investigation, and CPJ calls on Your Excellency to ensure that all perpetrators are brought to justice.
Further, CPJ was alarmed by public comments made on April 28 by several members of Your Excellency's cabinet, including Foreign Minister Kokou Tozoun, who accused foreign journalists of being responsible for deadly post-election violence. Several foreign journalists who had traveled to Togo to report on the elections and their aftermath told CPJ they believed the foreign minister's comments had endangered their safety.
CPJ urges Your Excellency to ensure that the suspensions placed on Radio Maria, Radio Nostalgie, and Kanal FM are lifted immediately and unconditionally, and that all radio stations in Togo are free to report and comment on the news without fear of government reprisal.
As an organization of journalists dedicated to defending the rights of our colleagues worldwide, CPJ calls on Your Excellency to make a public commitment to ensuring press freedom in Togo. Journalists have a right and a duty to report on matters of public concern, especially during this important period of political transition.
Thank you for your attention to these urgent matters. We await your reply.
Sincerely,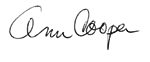 Ann Cooper
Executive Director