CPJ Update
April 15, 2005
News from the Committee to Protect Journalists

---
CPJ travels to Nepal, Gambia to support besieged journalists
In Banjul, fear and repression reported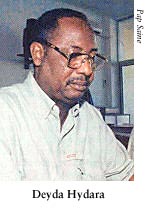 Clarence Page, board member and Chicago Tribune columnist, led a CPJ delegation this month to the Gambia, where the press is gripped by fear and repression. Page, Africa Program Coordinator Julia Crawford and Deputy Director Joel Simon, met with senior government officials–including the secretaries of state for justice, information, and the interior–during the April 6-12 mission to Banjul.
They also met with the director general of the National Intelligence Agency, which is investigating the December 2004 murder of veteran journalist Deyda Hydara. Hydara, editor of the independent newspaper The Point, was killed in a drive-by shooting after leaving his office on the night of December 16, 2004. His murder came just two days after the Gambian National Assembly passed two contentious pieces of media legislation–which Hydara and other independent journalists had strongly opposed.
Journalists who met with CPJ expressed dismay that President Yahya Jammeh signed the legislation. One law imposes mandatory prison sentences for journalists found guilty of defamation or publishing false information. A second increases fivefold the financial guarantee that all media outlets must post in order to be licensed.
Local journalists expressed deep concern at a series of unsolved arson attacks on independent media, including an April 2004 blaze that destroyed the printing press of The Independent newspaper.
To read more about the mission:
http://www.cpj.org/news/2005/Gambia_statement_12apr05.html
In Kathmandu, a protest against vast censorship
Executive Director Ann Cooper and former BBC Nepal reporter Daniel Lak traveled to Nepal, where government censorship, detentions, and harassment have sharply limited news coverage at a time of national crisis. Our mission follows King Gyanendra's startling February 1 proclamation dismissing the government and declaring a state of emergency. Among many alarming steps, the government banned news reporting on Nepal's 46 private FM radio stations–depriving citizens of one of their main sources of information.
Concluding CPJ's weeklong fact-finding mission with an April 12 press conference in Kathmandu, Cooper called on the government to release all imprisoned journalists immediately and halt "emergency" orders that have stifled independent reporting.
Cooper and Lak met with a wide range of editors, reporters, and photographers in Kathmandu. They spoke with stringers who report for national media in rural areas, and they traveled to Nepalgunj to discuss press conditions with journalists there.
The mission comes at a crucial juncture. An official memo made public April 6 ordered all government agencies to stop payment on ads to private media. Advertising from government agencies accounts for 25 percent of the media's revenues nationwide. Since the state of emergency was declared, hundreds of journalists have lost their jobs or work without pay.
CPJ plans to issue an in-depth report on conditions in Nepal this month. To read more about the mission to Nepal: http://www.cpj.org/news/2005/Nepal12apr05na.html

Update from a Somali friend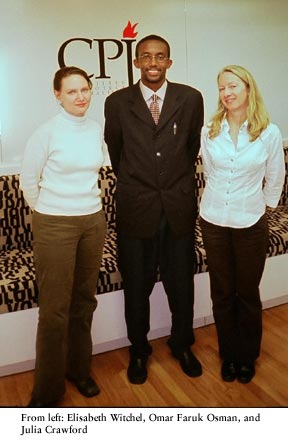 Somali journalist Omar Faruk Osman paid a visit to CPJ's offices and met with Crawford and Journalist Assistance Coordinator Elisabeth Witchel. Two years ago, CPJ's Journalist Assistance Program helped him gain temporary exile in Kenya after he got death threats in Somalia.
While working as Mogadishu correspondent for Ruunkinet.com, a London-based Web site featuring news and commentary on Somalia, Faruk drew the ire of the Transitional National Government. A photograph posted on Ruunkinet.com featured the faces of President Abdiqasim Salad Hassan and various warlords pasted onto the bodies of soccer players with a caption identifying them as the "team" responsible for the failure of peace in Somalia. Faruk had crossed the government before, notably after a 2002 BBC interview in which he criticized a new press law.
The photograph, friends warned him, had put him in danger and the militia planned to hunt him down. With CPJ's help, Faruk was able to escape to Nairobi, the capital of neighboring Kenya. He eventually returned home–and is now the secretary general of the Somali Journalists Network, a press freedom group.
"I was going through such a terrible experience when I had to flee Somalia," Faruk said when he visited CPJ staff. "But it made a big difference to know CPJ was there to help and that you were interested in my case."
Training in North Africa
Joel Campagna, CPJ's senior program coordinator for North Africa and the Middle East, helped lead a four-day workshop in Cairo for press freedom advocates in the Arab world. The training, organized by the International Freedom of Expression Exchange, focused on ways to better monitor press conditions, document abuses, and pursue advocacy in the region.
Development news
We are grateful to the Marc Haas Foundation for its grant of $10,000.