New York, April 6, 2005—The Committee to Protect Journalists condemns the vicious attack on a Mexican crime reporter, who was in critical condition today after being shot repeatedly in front of her radio station in Nuevo Laredo, a city on the Texas border beset by a wave of drug-related violence.
Dolores Guadalupe García Escamilla, who hosts the program "Punto Rojo" (Red Point) for private radio station Stereo 91, was struck by nine shots to the abdomen, pelvis, arms, and legs as she arrived at work just before 8 a.m. yesterday, Stereo 91 News Director Roberto Gálvez Martínez told CPJ.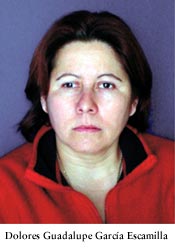 An assailant approached the reporter after she parked her car in front of the station, firing at least 14 times in all, the Mexican press reported. García Escamilla was taken to a nearby hospital where she underwent emergency surgery.
Gálvez said the attack occurred about a half hour after the station aired a report by García Escamilla on Monday's fatal shooting of a Nuevo Laredo lawyer—who news reports said had represented alleged drug dealers. García Escamilla, an experienced reporter who has worked for several media outlets in the city, had covered crime for Stereo 91 since 2001, Gálvez said.
He told CPJ that García Escamilla's car was torched in early January in front of her house. Gálvez said no motive was established, although press reports speculated that it stemmed from her crime reporting. García Escamilla filed a complaint with the public prosecutor's office but no action was taken.
Nuevo Laredo, a city of 500,000 in the state of Tamaulipas, is experiencing a wave of violence related to drug trafficking. More than 30 people have been killed so far this year, the San Antonio Express News reported.
The U.S.-Mexico border has become one of the most dangerous places in Latin America for journalists to do their jobs. Two border journalists were killed in direct reprisal for their work in 2004, CPJ research shows. CPJ is also investigating the motive in the murder of Roberto Mora, editorial director for the Nuevo Laredo–based daily El Mañana, who was stabbed to death in front of his house on March 19, 2004.
"We are outraged by this despicable attack against García Escamilla," CPJ Executive Director Ann Cooper said. "We call on Mexican authorities to conduct an exhaustive investigation, prosecute those responsible, and bring an end to this climate of lawlessness in the U.S.-Mexico border region."