CPJ Update
February 15, 2005
News from the Committee to Protect Journalists

---
Meeting with Yemeni ambassador highlights case of imprisoned journalist
On February 8, a CPJ delegation met with Yemen's ambassador to the United States, Abdulwahab Abdulla al-Hajjri, to express deep concern about the imprisonment of a Yemeni opposition newspaper editor and a recent spate of criminal convictions handed down against several other journalists. Criminal convictions against journalists in Yemen have continued despite President Ali Abdullah Saleh's pledge in 2004 to work toward eliminating prison sentences for press offenses.

CPJ Executive Director Ann Cooper attended the meeting with board members Clarence Page and Gene Roberts, Middle East Program Coordinator Joel Campagna, and CPJ Washington, D.C., Representative Frank Smyth.

Al-Hajjri agreed to pass on CPJ's concerns to his government and said the al-Khaiwani case "will be looked at with a lot of care. … Hopefully, we'll see good results soon."

To read more, please click here: http://www.cpj.org/news/2005/Yemen08feb05na.html

To learn more about the cases against journalists in Yemen, please click here:
http://www.cpj.org/cases04/mideast_cases04/yemen.html

CPJ delegation meets with Nepalese ambassador to protest media crackdown
On February 7, a CPJ delegation met with Nepal's ambassador to the United States, Kedar Bhakta Shrestha, to discuss the safety of Nepalese journalists and the censorship of the press following King Gyanendra's dismissal of Nepal's multiparty government and his declaration of a state of emergency on February 1.

The king also imposed a six-month ban on critical reporting on government activities. The government posted soldiers at Nepal's major print and broadcast outlets, controlled television broadcasts, and vetted news articles, according to CPJ sources and international news reports. A few days later, security forces arrested prominent social critic and columnist Khagendra Sangraula and sought to arrest Tara Nath Dahal, president of the Federation of Nepalese Journalists, who went into in hiding.

Shrestha agreed to pass on CPJ's concerns to his government.

Deputy director Joel Simon and Smyth attended .

To read more about the media crackdown in Nepal, please click here: http://www.cpj.org/news/2005/Nepal03feb05na.html
http://www.cpj.org/news/2005/Nepal04feb05na.html


Russia section online
Since President Vladimir Putin came to power in Russia in 2001, eleven journalists have been murdered in contract-style killings. The latest victim was Paul Klebnikov, the American editor of Forbes Russia magazine, who was shot outside his Moscow office on July 9, 2004. No one has been brought to justice in any of the murders. We have created a special link on our Web site to spotlight the slain journalists. Please click here:
http://www.cpj.org/Briefings/2005/russia_murders/russia_murders.html

Imprisoned journalists
CPJ research has found that four countries with long records of media repression hold more than three-quarters of the journalists imprisoned around the world. Our annual survey found 122 journalists in 20 countries in prison on December 31, 2004, for practicing their profession. Ninety-three of those were being held in China, Cuba, Eritrea, and Burma.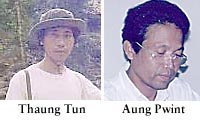 For the sixth consecutive year, China was the leading jailer of journalists, with 42 imprisoned at year's end. Cuba ranked second with 23 reporters, writers, and editors behind bars, while Eritrea remained Africa's leading jailer of journalists with 17 in prison, many of whom are being held incommunicado in unknown locations. In Burma, 11 journalists were behind bars in reprisal for their work at year's end, including CPJ's 2004 International Press Freedom awardees Aung Pwint and Nyein Thit.
This year's list includes U.S. journalist Jim Taricani, a reporter for WJAR-TV in Providence, R.I., who is serving six months of home confinement for refusing to reveal who leaked a government surveillance tape to him during a municipal corruption probe. At least two other U.S. journalists–Matthew Cooper of Time and Judith Miller of The New York Times–now face possible federal prison terms.
To read more about our survey, please click here:
http://www.cpj.org/Briefings/2005/imprisoned_04/imprison_release03feb05na.html
For a full list of journalists in prison as of December 31, 2004, please click here:
http://www.cpj.org/Briefings/2005/imprisoned_04/imprisoned_04.html


CPJ to release Attacks on the Press in 2004
We will release our latest survey of press freedom, Attacks on the Press in 2004, on March 14 at the National Press Club in Washington, D.C.
With an introduction by CPJ Executive Director Ann Cooper and a preface by former NBC News anchor and current CPJ board member Tom Brokaw, Attacks on the Press in 2004 recounts journalism's deadliest year in a decade and documents hundreds of cases of media repression in 90 countries, including murders, assaults, imprisonment, censorship, and legal harassment.

If you would like to attend the press conference, please contact Communications Coordinator Wacuka Mungai at [email protected]

Journalist Assistance News
CPJ recently placed another Knight Senior Research fellow at the University of Maryland. Khawar Mehdi Rizvi, a Pakistani freelance reporter, had been secretly detained in December 2003 for helping two French journalists report on a story about Taliban activity along Pakistan's border with Afghanistan. Rizvi was later released on bail on March 27, 2004, by an antiterrorism court in Quetta, a town in southwestern Pakistan. However, he had been charged with sedition, conspiracy, and impersonation and faced the possibility of a life sentence for his work. Racing against the completion of his trial, CPJ worked to get Rizvi a visa and safely evacuated him to the U.S., where he began his fellowship at the Phillip Merrill School of Journalism at the University of Maryland.
Rizvi was featured on the cover of the fall/winter issue of CPJ's biannual magazine, Dangerous Assignments. To read the magazine, please click here:
http://www.cpj.org/Briefings/2004/DA_fall04/%20DA_fall04.pdf

His story was also covered in the French press; to learn more, please click here (article is in French):
http://www.lexpress.fr/info/societe/dossier/presse/dossier.asp?ida=431600

Development news
We are grateful to the Leon Levy Foundation for its grant of $10,000.