Your Excellency:
The Committee to Protect Journalists is deeply disturbed by an ongoing government ban on news programming on Radio Dzialandzé Mutsamudu (RDM), a popular, privately owned station based in Mutsamudu, capital of the semi-autonomous island of Anjouan.
Interior and Information Minister Djanffar Salim ordered the station on January 13 to suspend its news broadcasts indefinitely.
According to local sources, the order stemmed from a recent RDM interview with a doctor who defended a strike by the island's medical personnel. Prior to the interview, Anjouan's Health Minister had criticized the strike in comments aired on Anjouan's official broadcaster, Radio Télévision Anjouan.
This censorship by a government minister is especially troubling because RDM, a partner with Radio France Internationale, is a rare independent source of local and international news in Anjouan.
We remind Your Excellency that censorship of the news is anathema to democracy, and call on your administration to allow RDM to resume its news broadcasts immediately and unconditionally.
Thank you for your attention to this urgent matter. We await your response.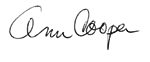 Ann Cooper
Executive Director