CPJ Update
December 15, 2004
News from the Committee to Protect Journalists
---
International Press Freedom Awards dinner breaks fund-raising record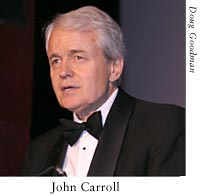 Once again, CPJ's International Press Freedom Awards dinner broke our previous fund-raising record, bringing in $1.35 million dollars for CPJ's annual operating fund. Last year's dinner raised $1.2 million.

Tony Ridder, chairman & CEO of Knight Ridder, was this year's dinner chair. CPJ board member and PBS anchor Gwen Ifill hosted the event, which honored journalists Svetlana Kalinkina of Belarus; Alexis Sinduhije of Burundi; Aung Pwint and Thaung Tun, who are imprisoned in Burma; and Paul Klebnikov, the American editor of Forbes Russia, who was killed in Moscow in July.

Klebnikov's widow, Musa, accepted her husband's award and said, "One great journalist has been killed, but I hope other journalists will pick up the banner and fight on, because the attack on one is an attack on all journalists, and, in this case, on hope itself."

John Carroll, the editor and executive vice president of the Los Angeles Times, received CPJ's Burton Benjamin Memorial Award for lifetime achievement.

For pictures of the evening, and to read the awardees' acceptance speeches, please click here: http://www.cpj.org/awards04/dinner.html.

Journalist death toll highest in a decade

This year has been the deadliest in a decade for journalists. CPJ research shows that 54 journalists have been killed for their work so far in 2004, surpassing the 1995 toll, when 51 were killed, many in Algeria's bloody civil war.
Iraq has been the most dangerous place for journalists in 2004, with 23 killed as a direct result of their work. The vast majority were Iraqi journalists, who were targeted by insurgents, caught in crossfire, or killed by U.S. forces' fire.
The Philippines was the second most dangerous place for journalists this year, with eight unsolved murders of provincial journalists who were targeted for their work.
To read more, please click here: http://www.cpj.org/news/2004/CPJ10dec04na.html
Imprisoned journalists released in Cuba, but press freedom still elusive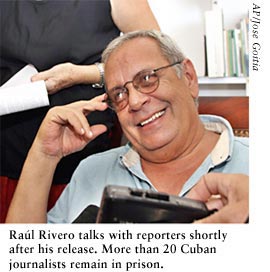 Six journalists–including Manuel Vásquez Portal, winner of CPJ's International Press Freedom Award in 2003–have been released from Cuban jails this year, but 23 more remain behind bars. Vásquez Portal and Carmelo Díaz Fernández were the first to be released on "medical parole" in June 2004, more than a year after the Cuban government launched a massive crackdown on the independent press and the opposition.
The latest journalists to be released were renowned poet and writer Raúl Rivero, who was freed on November 30, and Jorge Olivera Castillo, the former head of an independent news agency, who was freed on December 7.
The journalists were released just as Cuba was set to resume formal diplomatic contacts with Spain as a possible precursor to normalizing relations with the European Union. In an op-ed published in the International Herald Tribune, CPJ Deputy Director Joel Simon warned that the releases "should not be construed as a sign that press conditions are improving. The Cuban government cynically views these imprisoned journalists as human bargaining chips whose liberty can be used to extort concessions from the international community."
On December 14, the European Union's Latin American Committee proposed suspending sanctions against Cuba, while strengthening the dialogue with the internal opposition, according to reports in the Spanish media.
Cuba remains one of the world's leading jailers of journalists, second only to China. The crackdown on independent journalists began in March 2003, and in all 29 journalists were arrested and sentenced to between 14 and 27 years in prison.
To read Simon's op-ed, "Don't Play Along with Castro's Cynical Game," please click here: http://www.cpj.org/op_ed/Simon13dec04.html.

Conference on journalist safety
In November, senior program coordinator responsible for the Middle East, Joel Campagna, participated in a panel about the diversity of Arab media at a news industry conference in Villamora, Portugal, organized by the News Xchange.
The panel also addressed safety issues affecting journalists in Iraq, as well as the impact of Arabic satellite media in the region. More than 400 people from 47 countries attended the meeting.
Journalist assistance news
In 2004, CPJ's Journalist Assistance Program has given direct assistance to more than 46 journalists from 24 countries, including Haiti, Colombia, the Democratic Republic of Congo, Rwanda, Pakistan, and Uzbekistan. We have funded medical treatment for journalists from Moldova, Bangladesh, and Turkmenistan who were victims of brutal assaults in retaliation for their work
Our efforts have led to the distribution of more than $230,000. This amount includes nearly $20,000 that we have disbursed from our own distress fund, as well as funds we raised from other sources, including the Correspondents Fund, the Hellman-Hammett Fund, the International Federation of Journalists, Canadian Journalists for Free Expression, and individual donors. In addition, we were able to place two Pakistani journalists at risk of imprisonment in journalism fellowships in the United States.
Development news
We are grateful for an anonymous gift of $100,000 made this month for our general operating costs.
Staff news
Asia Program Coordinator Abi Wright welcomed baby Ann Elizabeth Wright Macphee on December 8. Former Asia Researcher Sophie Beach welcomed Luca Alexander Xiao on November 29. Congratulations to you both!