CPJ Update
September 16. 2004
News from the Committee to Protect Journalists
---
Setbacks exposed in Democratic Republic of Congo
Led by Chairman David Laventhol, a CPJ delegation this week delivered a critical report on press freedom in the Democratic Republic of Congo to the country's United Nations ambassador.
Our report recounts a series of setbacks for the press after Rwandan-backed rebels led an insurrection in the eastern city of Bukavu in June. CPJ's investigation, directed by Africa Program Coordinator Julia Crawford, found the government restricted coverage and imprisoned journalists, while rebels forced radio stations to close and journalists to flee for their safety.
Crawford's report, "Fragile Freedom," was based on a two-week mission to the DRC during the height of the unrest. Her findings point to fundamental, ongoing press freedom problems, from government censorship and repression to continuing violence and threats.

Read the report.
An Indonesian editor convicted
In a defeat for press freedom in Indonesia, a court today convicted Bambang Harymurti, chief editor of Tempo magazine, of criminal defamation and sentenced him to a year in prison. Another Tempo editor and a reporter were acquitted.
The criminal case stems from a March 2003 article in Tempo citing allegations that businessman Tomy Winata may have stood to profit from a Jakarta textile market fire. Winata, who has denied any tie to the fire, filed several criminal and civil complaints against Harymurti, editor Teuku Iskandar Ali, and reporter Ahmad Taufik.
Harymurti has vowed to appeal. Asia Program Coordinator Abi Wright has worked with the Southeast Asian Press Alliance in an intensive months-long campaign against the prosecution. CPJ and other advocates have also pressed for the decriminalization of Indonesia's defamation laws.
To read about it, go: http://www.cpj.org/news/2004/Indonesia16sept04na.html
To read CPJ's August 10 letter to President Megawati Sukarnoputri: http://www.cpj.org/protests/04ltrs/Indonesia10aug04pl.html
Fighting criminal defamation in Latin America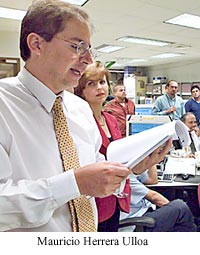 This month, CPJ brought together representatives of several groups fighting criminal defamation laws in Latin America. The press and human rights groups played a vital role in helping win a landmark case before the Inter-American Court of Human Rights this summer. The Inter-American judges overturned a criminal defamation conviction against Mauricio Herrera Ulloa, a reporter with the Costa Rican newspaper La Nación.
The goal now: Use the court victory as the foundation for turning back criminal defamation laws throughout Latin America. The court, setting an important precedent for the region, found the Costa Rican conviction violated Herrera Ulloa's "right to freedom of thinking and expression" as guaranteed in the American Convention on Human Rights.
Eduardo Bertoni, who promotes freedom of expression on behalf of the Inter-American Commission on Human Rights, led the strategy meeting at CPJ offices. Taking part were representatives of the U.K.-based Article 19, Argentina's AsociaciÛn Periodistas, Colegio de Periodistas de Costa Rica, the Inter-American Press Association, the Open Society Justice Initiative, the World Press Freedom Committee, and La Nación.
Pressing the Klebnikov case
In August, a CPJ delegation met with senior U.S. and Russian officials in Washington, urging an aggressive investigation into the July murder in Moscow of Forbes Russia editor Paul Klebnikov. The murder was the 11th contract-style slaying of a journalist in Russia since Vladimir Putin assumed power in 2000.
No one has been brought to justice in any of the killings.
Peter Klebnikov, the editor's brother, joined Executive Director Ann Cooper in meetings with senior officials at the White House and State Department. Also taking part in the talks were CPJ board member Andrew Alexander, Washington bureau chief for Cox Newspapers; CPJ Washington representative Frank Smyth; and Alex Lupis, CPJ senior program coordinator for Europe and Central Asia. CPJ representatives also met with Russian Embassy officials.
To read more: http://www.cpj.org/news/2004/Russia19aug04na.html
A Murder in Mexico
Deputy Director Joel Simon and Carlos Lauria, CPJ Americas program coordinator, will travel to Mexico next week to push for answers in the killing of crusading newspaper editor Francisco Ortiz Franco.
Ortiz Franco, a lawyer and co-editor of the Tijuana weekly Zeta, was gunned down in the border city on June 22 as his two young children watched. The CPJ delegation expects to meet with prosecutors and local journalists. The U.S.-Mexico border remains an extremely dangerous place for journalists, who are targeted by drug traffickers and corrupt security personnel.
To read more: http://www.cpj.org/news/2004/Mexico23aug04na.html
Development News
It's been a busy month in the development department. We're pleased to say the Open Society Institute awarded a $166,667 grant to support our Emergency Response Fund. We also received a $20,000 grant from the Heinz Endowments for our Journalist Assistance Program.
And we'd like to express our deep gratitude for the generous donations we received in memory of Paul Klebnikov. Memorial donations now total more than $10,000.