CPJ Update
July 19 , 2004
News from the Committee to Protect Journalists
---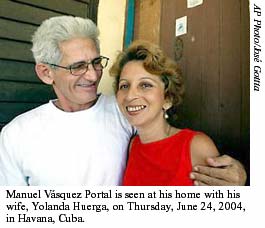 CUBA: A Freedom Award winner finally free
We're pleased to report that Cuban writer and poet Manuel Vázquez Portal was finally released after spending more than a year in prison. Vázquez Portal, a 2003 International Press Freedom Award honoree, was arrested along with more than two dozen other journalists in a government crackdown on the independent media.
But much work remains. Vázquez Portal, and a second journalist released about the same time, still have cases pending and could be returned to prison at any time.
We're also gravely concerned about the 27 other journalists who remain in Cuba's prisons, and we continue to press the Cuban government to release them all unconditionally. The journalists-a third of the island's independent press corps-were arrested, summarily tried, and convicted during three weeks in March and April 2003 while the world's attention was focused on the war in Iraq
Read two special reports on the Cuban crackdown against the press: Crackdown in Cuba and Vázquez Portal.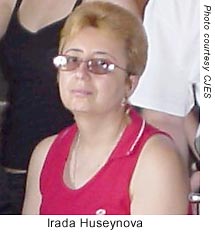 AZERBAIJAN: Charges dropped against journalist
Journalist Irada Huseynova can return to Azerbaijan without threat of arrest, thanks to international pressure brought by CPJ and other press freedom groups.
Huseynova, now based in Moscow, had faced criminal defamation charges in the capital city of Baku. The threat of arrest prevented her from traveling to Baku in mid-June for (ironically enough) a meeting of the International Freedom of Expression Exchange. Huseynova's crime? She wrote a 2001 article that criticized the Baku mayor's decision to close tram lines and build water fountains.
On the final day of the IFEX meeting, CPJ highlighted Huseynova's case in a press conference that called on the government to end repression of independent media.
Less than a week later, the mayor dropped the criminal charges.
Read more about Huseynova's case.

U.S. SUPREME COURT: Justices recognize press issue in "enemy combatant" case
The U.S. Supreme Court's decision in the "enemy combatant" case of Yaser Esam Hamdi recognizes an important press issue. Human rights and press freedom organizations including CPJ had filed an amicus curiae brief in the case.
The court found that Hamdi, a U.S. citizen detained in 2001 by U.S. forces in Afghanistan and accused of fighting with the Taliban, must be allowed to challenge his detention in a court of law.
The brief, prepared by Akin Gump Strauss Hauer & Feld LLP and coordinated by Human Rights First, noted that journalists and relief workers frequently operate in conflict zones and, at times, are mistakenly detained by armed forces.
The majority opinion, written by Justice Sandra Day O'Connor, took note of our arguments. "Indeed, as amicus briefs from media and relief organizations emphasize, the risk of erroneous deprivation of a citizen's liberty in the absence of sufficient process here is very real," she wrote.
Read more about the decision.

Read the brief in PDF format.
PAUL KLEBNIKOV: A "lawless" culture leads to slayings
Paul Klebnikov, editor of the Russian edition of Forbes Magazine, was shot and killed July 9 in Moscow when he left his office. Authorities say it was a contract killing, probably in retaliation for his work.
CPJ Executive Director Ann Cooper last week called on President Vladimir Putin to put an end to the "climate of lawlessness and impunity" that led to the slaying of Klebnikov – and 14 other journalists since Putin came to power four years ago. No one has been brought to justice in any of these cases.
Klebnikov was widely admired by journalists from around the world, and his killing has prompted grief and anger. We're grateful to the many who have donated to CPJ in his memory. Their contributions will be acknowledged on our Web site.
Read our letter to Putin.
STAFF NEWS
We welcome Billie Sweeney, former New York news editor for The Associated Press, as CPJ's editorial director. Sweeney directed AP's coverage of New York City from 2000 to 2004, including the Sept. 11 attack on the World Trade Center; the anthrax threat of 2001; the trials of those accused in the terrorist bombings of U.S. embassies in Africa; and the financial crime trials of Martha Stewart and others. Sweeney also worked at The Hartford Courant, directing investigative projects, including the series "Deadly Restraint," which detailed abuses of psychiatric patients nationwide and led to federal reforms.
WEB SPINS
Webmaster Mick Stern has revamped the front page of our Web site, www.cpj.org, as part of our continuing effort to present CPJ's research clearly and effectively.