New York, June 7, 2004—The Committee to Protect Journalists (CPJ) mourns the death of BBC cameraman Simon Cumbers, 36, who was shot to death yesterday by unidentified gunmen near Riyadh, the capital of Saudi Arabia. BBC security correspondent Frank Gardner, 42, was also critically injured in the attack.
The shooting occurred in Al-Suwadi, a suburb of Riyadh, when Cumbers, an Irish freelance cameraman on assignment for the BBC, Gardner, and a Saudi government minder were filming the house belonging to an al-Qaeda militant killed last year by Saudi police, according to the BBC. Reuters reported that Saudi authorities are questioning the minder.
"A jeep, or jeep-like vehicle, drove up and somebody fired at the two Westerners with a machine pistol, with deadly consequences," said British ambassador to Saudi Arabia Sherard Cowper-Coles, according to the BBC. Cowper-Coles added, "It looks as though Simon was killed on the spot."
Al-Suwadi is regarded as a stronghold for religious extremists in Saudi Arabia.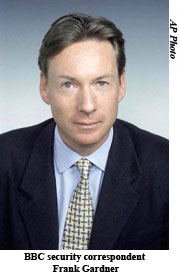 The BBC said that Gardner, who suffered wounds mainly to his abdomen, was in critical but stable condition after undergoing hours of surgery.
According to the BBC, Saudi authorities are searching for the assailants who fled the scene.
"We deplore this deadly attack on our colleagues and call on Saudi authorities to apprehend the perpetrators and bring them to justice in a timely manner," said CPJ Executive Director Ann Cooper.