CPJ Update
April 16, 2004
News from the Committee to Protect Journalists
---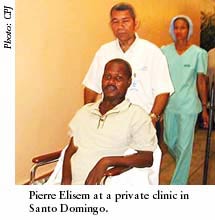 CPJ in the Dominican Republic
CPJ Journalist Assistance Coordinator Elisabeth Witchel traveled to the Dominican Republic in late March to visit Haitian journalist Pierre Elisem (left) in the hospital. Elisem, director and owner of Radio Hispagnola, in Haiti's northern city of Trou du Nord, was shot on February 21 by unidentified gunmen. A bullet hit his neck, leaving him temporarily paralyzed. Witchel and CPJ's Americas Program Coordinator Carlos LaurÌa helped arrange for Elisem's evacuation to the Dominican Republic, where he was admitted to a private clinic for treatment. CPJ continues to provide assistance for Elisem's medical care.
CPJ in Russia and Kazakhstan
Europe and Central Asia Program Coordinator Alex Lupis traveled to Moscow at the end of March to research and write a story about Chechen journalist Ali Astamirov, who was working for Agence France-Presse when he was abducted on July 7, 2003. Astamirov's whereabouts remain unknown. While in Moscow, Lupis also met with Russian journalist Grigory Pasko, a former military reporter who was released from prison in January 2003 after serving 45 months in jail for his work. Lupis then traveled to Kazakhstan, where he participated in a training conference for Central Asian press freedom activists. While there, Lupis met with the embattled staff of the opposition newspaper Assandi Times, as well as Sergei Duvanov, a prominent journalist known for his criticism of Kazakh authorities.
CPJ's advocacy bears results

Journalist gains asylum: CPJ helped Haitian journalist Jean Roland Chery get asylum in the United States. Since then, Chery has been working with Americas program to provide invaluable research about the current crisis in Haiti.
Journalists released from prison after CPJ's sustained advocacy efforts:
Tunisia
The government of President Zine Al-Abdine Ben Ali released jailed cyberjournalist Zouhair Yahyaoui on November 18, 2003. Yahyaoui, who edited and published the online journal TUNeZINE, had been in prison since June 2002. He was arrested and sentenced to 28 months in jail on charges of intentionally publishing false information and using stolen communication lines to post his Web site. See http://www.cpj.org/news/2003/Tunisia19nov03na.html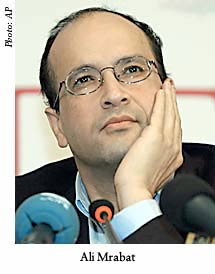 Morocco
In January 2004, King Mohammed VI pardoned journalists Ali Lmrabet (left), owner and editor of the weeklies Demain and Douman, and Mohammed al-Herd, editor of the Oujda-based weekly Al-Sharq. Lmrabet had been convicted of several charges, including "insulting the king," while al-Herd was found guilty of extolling terrorist acts. See: http://www.cpj.org/news/2004/Morocco07jan04na.html
China
On March 19, 2004, South Korean freelance photojournalist Jae Hyun Seok was released from prison in Shandong Province, China. Seok, who was arrested in January 2003, was serving a two-year sentence on charges of human trafficking. At the time of his arrest, he was taking photographs of North Korean refugees in Yantai, Shandong Province, who were boarding fishing boats bound for South Korea and Japan. See: http://www.cpj.org/news/2004/China19mar04na.html
Turkmenistan
Rakhim Esenov and Ashyrguly Bayryev, freelancers for the Turkmen Service of the U.S. government­funded Radio Free Europe/Radio Liberty (RFE/RL), were detained in late February and early March by agents from the National Security Service (MNB) in the capital, Ashgabat. They were released in March. Esenov was arrested and charged with instigating social, ethnic, and religious hatred after smuggling 800 copies of his banned novel Ventsenosny Skitalets (The Crowned Wanderer) into Turkmenistan. Bayryev was arrested and charged with slander, with no explanation of the charge. Both journalists have been told to stop reporting for RFE/RL and are not permitted to leave Ashgabat. See: http://www.cpj.org/news/2004/Turkmen24mar04na.html
Pakistan
A judge granted bail to freelance journalist Khawar Mehdi Rizvi (right) on March 27, 2004, in an anti-terrorism court in the southwestern Pakistani city of Quetta. Police have accused Rizvi of fabricating video footage of Taliban activity in Pakistan. Rizvi says is innocent, and that he was tortured while in police custody. He is still charged with sedition, conspiracy, and impersonation, which carry a maximum sentence of life imprisonment. See: http://www.cpj.org/news/2004/Pak29mar04na.html
Development news
New director of development
CPJ is pleased to announce that John Weis will be joining us as the new director of development on April 26. John has been the deputy director of development at Human Rights First (formerly the Lawyers Committee for Human Rights) for the last three years.
Grant From the Open Society Institute
CPJ is grateful to the Open Society Institute for its $25,000 grant to the journalist assistance program.
Upcoming Events
CPJ's Campagna to moderate panel
Senior Program Coordinator Joel Campagna will moderate a panel discussion on journalists' security issues in Iraq at the joint American Society of Newspaper Editors-Newspaper Association of America (ASNE-NAA) convention in Washington, D.C. on April 21. Panelists will include CPJ board member Dave Marash of ABC News and "Nightline."