New York, February 2, 2004—An explosion at about 2 p.m. today shook the downtown Moscow apartment of Yelena Tregubova, an independent journalist who recently published a controversial best-selling book criticizing the Kremlin.
A package was left outside the door to Tregubova's apartment and exploded as she was leaving to meet a friend.
"I was waiting for Yelena downstairs at the taxi when I heard the blast," Tregubova's colleague and friend Masha Slonin told CPJ in a telephone interview today. "It sounded like an earthquake."
Tregubova's apartment door was damaged, but neither she nor anybody else was injured. Police and emergency workers arrived at the scene immediately, according to local reports.
Police have currently classified the incident as an act of hooliganism, the independent Moscow radio station Ekho Moskvy reported.
Tregubova told Ekho Moskvy that several days ago she received a call on her cell phone from a man who identified himself as an employee of Sheremetyevo International Airport, outside Moscow. The man told Tregubova that a parcel arrived for her at the airport and asked for her home address for delivery purposes.
"I decided not to give my address and asked the man what phone number he was calling from," Tregubova said. "At that moment the connection was cut off, and nobody called me back…. I guess I finally received my delivery."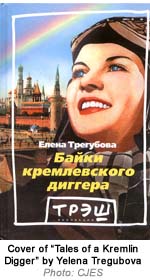 Bombing comes in wake of controversial book
Tregubova was a member of the Kremlin press pool and reported for the independent Moscow dailies Kommersant, Izvestiya, and Russky Telegraf between 1997 and 2001, under Boris Yeltsin's and Vladimir Putin's presidencies.
Her political best-seller, Tales of a Kremlin Digger, was published in late October 2003 and criticized the Putin Administration for muzzling the press in Russia. In November, Nikolay Senkevich, general director of the state-controlled national television channel NTV, cancelled the European broadcast of an interview with Tregubova on the weekly news program "Namedni." According to the Interfax news agency, Mikhail Fedotov, of the Russian Union of Journalists, called Senkevich's decision as "an act of political censorship."
"We call on Russian authorities to investigate the motives behind this attack and bring the perpetrators to justice," said Ann Cooper, executive director of the Committee to Protect Journalists.