Of 69 journalists killed for their work in 2015, 40 percent died at the hands of Islamic militant groups such as Al-Qaeda and Islamic State. More than two-thirds of the total killed were singled out for murder. A CPJ special report by Elana Beiser
Published December 29, 2015
Islamic militant groups such as Islamic State and Al-Qaeda were responsible for killing 28 journalists worldwide this year—40 percent of the total killed in relation to their work, the Committee to Protect Journalists found in its annual analysis. Nine of those killings took place in France, which was second only to Syria as the most dangerous country for the press in 2015.
More in This Report
In Other Languages
Worldwide, 69 journalists were killed in the line of duty—including those murdered in reprisal for their work as well as those killed in combat or crossfire or on other dangerous assignments. The total, which includes journalists killed between January 1 and December 23, 2015, is higher than the 61 journalists killed in 2014. CPJ is investigating the deaths of at least 26 more journalists during the year to determine whether they were work-related.
Unlike in the past three years, the deaths were widely distributed across countries. At least five journalists were killed in each Iraq, Brazil, Bangladesh, South Sudan, and Yemen.
In 2012, 2013, and 2014, deaths in Syria far outnumbered those in the rest of the world. The declining number of deaths in Syria—where 13 were killed in 2015—reflects in part the reduced number of journalists working there, after many major international news organizations chose not to send staff to the country and local journalists fled into exile.
But the lower number of confirmed killings in Syria also reflects the increased difficulty that CPJ found in researching cases there and in other places ravaged by conflict, including Libya, Yemen, and Iraq. CPJ undertook a research mission to Iraq this year to investigate reports that up to 35 journalists from Mosul were missing, dead, or held captive by Islamic State. With the militant group's stranglehold on information about the city, CPJ could confirm the deaths of only a handful. Region-wide, CPJ has received reports of dozens more journalists killed, but is unable to independently confirm that the individuals have in fact died and, if so, whether journalistic work was the reason. Several of these journalists can be found on CPJ's "missing" list.
Those who are left practicing journalism in these conflict-ravaged countries are often affiliated with groups party to the conflict, further complicating CPJ's endeavors to determine the reasons behind their deaths.
Al-Qaeda in the Arabian Peninsula claimed responsibility for the massacre that killed eight journalists at satirical magazine Charlie Hebdo in Paris in January, and Islamic State in October murdered two Syrian journalists, Fares Hamadi and Ibrahim Abd al-Qader, who were living in exile in Turkey. Abd al-Qader was an early member of Raqaa is Being Slaughtered Silently, a Syrian citizen journalist group honored with CPJ's 2015 International Press Freedom Award.
In Bangladesh, members of an Al-Qaeda affiliate or another local extremist group, Ansarullah Bangla Team, were suspected in the hacking or stabbing murders of a publisher and four bloggers, including U.S.-Bangladeshi writer Avijit Roy, who was attending a book fair when he was killed. In Pakistan, the Taliban claimed responsibility for the shooting of Zaman Mehsud, president and secretary-general of the Tribal Union of Journalists' South Waziristan chapter and reporter for the Urdu-language Daily Ummat and Daily Nai Baat newspapers. And in Somalia, Hindia Haji Mohamed, a journalist for state-run broadcasters and the widow of another murdered journalist, was killed in December when a bomb blew up her car in an attack claimed by the Islamic militant group al-Shabaab.
Worldwide, more than two thirds of the journalists killed in 2015 were singled out for murder in reprisal for their work—in line with the historical average but a greater percentage than CPJ has recorded over the past five years.
About one third of killings worldwide came at the hands of criminal groups, government officials, or local residents—in most cases, drug traffickers or local authorities suspected of being in collusion with organized crime. They included Brazilian Gleydson Carvalho, who was shot dead by two men while he was presenting his afternoon radio show, which often criticized local police and politicians for corruption and wrongdoing. Brazil, with six murders, registered its highest number of killings since CPJ began keeping detailed records in 1992. While the level of violence is unprecedented, Brazilian judicial authorities have made strides in combating impunity with six convictions in murder cases in the past two years.
South Sudan, the world's newest country, registered for the first time on CPJ's database of killed journalists when unidentified gunmen ambushed an official convoy in Western Bahr al Ghazal state, resulting in the death of five journalists traveling with a county official. The motive for the attack and its perpetrators are unknown, with officials pointing the finger at various parties, including the followers of former Vice President Riek Machar, whose power struggle with President Salva Kiir set off the civil war in 2013. The murders landed South Sudan on CPJ's Global Impunity Index, which spotlights countries where journalists are murdered and their killers go free.
Aside from South Sudan, Poland and Ghana appeared on CPJ's killed database for the first time. In Poland, Łukasz Masiak, founder and editor of a news website who reported on provincial crime, drugs, and pollution, was fatally assaulted in a bowling alley after telling colleagues he feared for his life. In Ghana, George Abanga, a radio reporter, was shot dead at close range on his way back from covering a dispute among cocoa farmers.
Some other trends that emerged from CPJ's research:
Seventeen journalists worldwide were killed in combat or crossfire. Five were killed on a dangerous assignment.
At least 28 of the 47 murder victims received threats before they were killed.
For the first time since 2007, CPJ did not document a single journalist killed in direct relation to work in the Philippines. However, at least seven journalists were killed in unclear circumstances, and CPJ continues to investigate these cases for a work-related motive.
Broadcast reporter was the most dangerous job, with 25 killed. Twenty-nine victims worked online.
The most common beat covered by victims was politics, followed by war and human rights.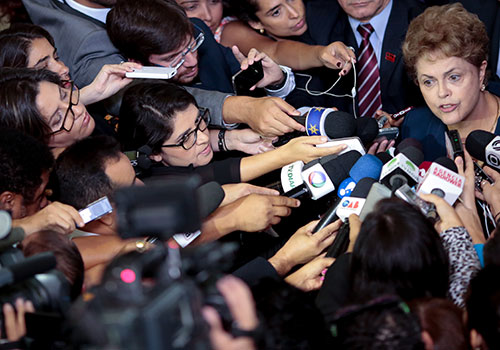 CPJ began compiling detailed records on all journalist deaths in 1992. CPJ staff members independently investigate and verify the circumstances behind each death. CPJ considers a case work-related only when its staff is reasonably certain that a journalist was killed in direct reprisal for his or her work; in combat-related crossfire; or while carrying out a dangerous assignment.
If the motives in a killing are unclear, but it is possible that a journalist died in relation to his or her work, CPJ classifies the case as "unconfirmed" and continues to investigate. CPJ's list does not include journalists who died of illness or were killed in car or plane accidents unless the crash was caused by hostile action. Other press organizations using different criteria cite different numbers of deaths than CPJ.
CPJ's database of journalists killed for their work in 2015 includes capsule reports on each victim and a statistical analysis. CPJ also maintains a database of all journalists killed since 1992.
Elana Beiser is editorial director of the Committee to Protect Journalists. She previously worked as an editor for Dow Jones Newswires and The Wall Street Journal in New York, London, Brussels, Singapore, and Hong Kong.