New York, March 28, 2018–Haitian authorities must do everything possible to locate freelance photojournalist Vladjimir Legagneur and conduct a full and transparent investigation into his disappearance, the Committee to Protect Journalists said today.
Legagneur was last seen on the morning of March 14, when he left his home for Grand-Ravine, a neighborhood in the capital of Port-au-Prince, according to his family and colleagues.
Pierre Michel Jean, a member of the Haitian photojournalist organization Kolektif 2 Dimansyon (K2D), told CPJ that Legagneur was working on an independent project exploring the aftermath of clashes between police and gangs in Grand-Ravine. An anti-gang raid in the neighborhood last November resulted in the death of two police officers and nine civilians, according to reports.
Legagneur's wife, Fleurette Guerrier, told CPJ that she and her husband agreed to check in by phone every two hours while he was in the neighborhood. She first called him around noon on March 14, and he answered but said he was busy. When she called back at the next agreed time, the phone rang but nobody answered. Guerrier told CPJ she has not heard from her husband since.
Guerrier said that she filed a missing person's report with Haiti's investigative police on March 16, but has not heard back from them.
On March 26, Haitian National Police spokesman Frantz Lerebours said that police did not yet have any information on Legagneur's whereabouts but said they "fear a fatal outcome," according to news reports.
"We call on Haitian authorities to employ all resources at their disposal to find and ensure the safety of Vladjimir Legagneur," said CPJ Emergencies Director María Salazar-Ferro. "A full, transparent investigation would demonstrate to the public and Legagneur's family and colleagues that authorities respect the vital role of the press in Haiti and are taking his disappearance seriously."
Michel Joseph, a Radio Caraibes journalist who regularly encountered Legagneur while reporting, told CPJ that the family told him they initially believed he might have been kidnapped.
Last night, Michel-Ange Gedeon, director general of Haiti's national police, told media that authorities had ruled out the possibility of kidnapping because there had been no ransom request, but said the investigation was still ongoing.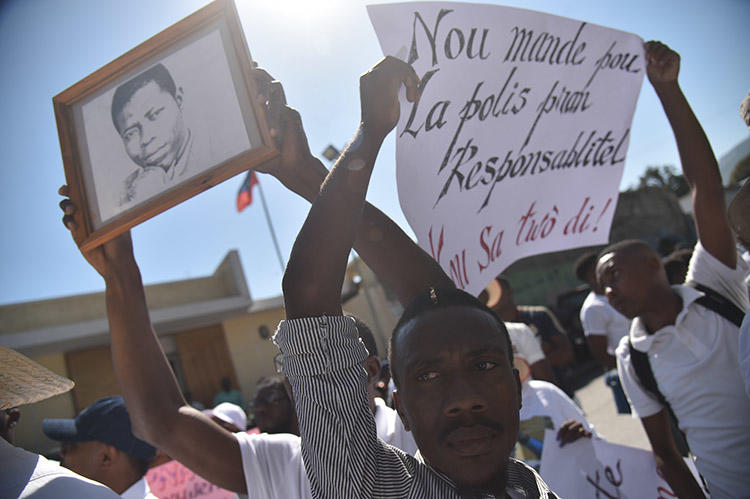 Haitian police did not answer CPJ's calls requesting comment.
"It's been 15 days since my husband disappeared, and his colleagues and I have the right to know what happened to him," Legagneur's wife told CPJ.
Legagneur previously worked for Haitian media outlets including the daily Le Matin and online news agency Loop Haïti, as well as non-governmental organizations, according to colleagues and news reports.
The National Association of Haitian Media released a statement yesterday expressing its concern at the lack of information from police and judicial authorities on the investigation into Legagneur's disappearance. Haitian journalists held a march and vigil in Port-au-Prince today calling for a full investigation.
Cases of violence against journalists in Haiti often remain in impunity. April 3 will mark 18 years since the murder of Jean Léopold Dominique, the owner and director of the independent station Radio Haïti Inter, who was shot dead in 2000, according to CPJ research. The case remains unsolved.