New York, August 4, 2011–The government of Ivory Coast President Alassane Ouattara, who pledged to uphold democracy in a Friday meeting with U.S. President Barack Obama, has suspended a newspaper over a reprinted opinion column criticizing the White House meeting, the Committee to Protect Journalists said today.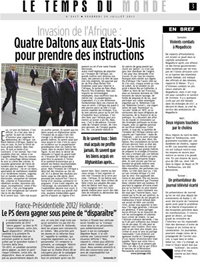 On Monday, Eugène Dié Kacou, the Ouattara-appointed chair of the state-run National Press Council, suspended Le Temps, a daily favorable to deposed former president Laurent Gbagbo, for 12 days in connection with a Friday column critical of the president, according to news reports.
"The suspension of Le Temps for reprinting an opinion article critical of President Alassane Ouattara appears to be an act of political censorship," said CPJ Africa Advocacy Coordinator Mohamed Keita. "We call on the Ivorian National Press Council to rescind this suspension immediately because it is contrary to the democratic values Ouattara has publicly sworn to defend in Washington."
The column, written by Hassane Magued, a blogger critical of Ouattara, was originally published on July 26 on the Germany-based news website LynxTogo.info, according to CPJ research. The author called Obama a "gang boss" and the recently elected presidents of Benin, Niger, Guinea, and Ivory Coast "the Black Daltons of Africa"–a reference to 19th-century American outlaws immortalized in the Lucky Luke comic book series–while describing an alleged conspiracy between them to seize Africa's riches.
In its ruling, the council called the writings "unacceptable insults, offenses," and accusations against heads of state, according to CPJ research. However, Ivorian journalists told CPJ that pro-Ouattara newspapers have published strident anti-Gbagbo opinions before and not faced sanctions. In an interview with CPJ, Kacou dismissed suggestions that the council was biased in favor of the Ouattara government with references to the government's suspensions of newspapers during three of the most recent regimes in Ivory Coast. "We are at ease. We have suspended the pro-Ouattara, the pro-Gbabgo, the pro-Bédié," Kacou said.
The council previously suspended Le Temps for six editions over a June 11 column by reporter Germain Sehoué alleging that the Ouattara government was dominated by northern Ivory Coast ethnic groups, according to news reports. The council also suspended Sehoué from practicing journalism for two months, accusing his writings of "inciting tribal hatred and revolt" and "threatening the consolidation of peace in Ivory Coast."