Everyone at some point has needed someone to stand up for them. These people shine in our memories for gestures or actions taken on our behalf, whether as children against the schoolyard bully or as adults in favor of a scholarly proposition or professional advance. But an especially powerful embodiment of an advocate is that of an attorney who uses the law, even where individuals have few rights, to argue for the freedom or survival of those who are oppressed. Nasrin Sotoudeh is such an advocate, and on April 26 her courage, determination, and professionalism as a writer, lawyer, and human rights activist in Iran will be honored with the PEN/Barbara Goldsmith Freedom to Write Award. Sotoudeh, who has served as legal counsel for several journalists imprisoned in Iran, was sentenced in January to 11 years in prison.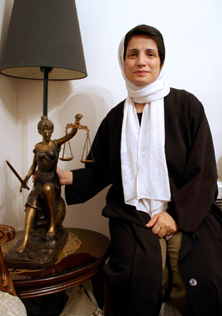 The state claims that in advocating for the rights of her fellow Iranians, Sotoudeh engaged in "propaganda against the regime," for which she has been given a one-year sentence. It also found her guilty of "acting against national security" and "violating the Islamic dress code (Hijab) in a filmed speech," bringing an additional 10 years in prison. The court went on to ban her from practicing law and from traveling outside Iran for 20 years. This additional punishment begins after Sotoudeh's release from prison, essentially confining her to Iran and barring her from practicing law for life. Her appeal is pending, according to PEN American Center, which grants the award.
One sad irony for CPJ: Sotoudeh is sitting in the same prison as Mohammad Davari, who was awarded CPJ's International Press Freedom Award in 2010 for his exposure of horrific abuse at Iran's Kahrizak Detention Center. Davari videotaped statements from detainees who said they had been raped, abused, and tortured. The center was closed in July 2009 amid public uproar, but by September of that year the coverage had landed Davari in Tehran's Evin Prison. He is serving a five-year prison-term for "mutiny against the regime." Among the journalists Sotoudeh represented are Mohammad Seddigh Kaboudvand, Issa Saharkhiz and Kayvan Samimi who remain in prison.
Iran and China were the world's worst jailers of journalists in 2010, as documented by CPJ. Many Iranian reporters who are not behind bars are trying to leave. CPJ's Journalists Assistance program helped 46 Iranian journalists relocate in 2010 due to threats or imminent imprisonment, a higher level of assistance than provided in any other country worldwide. When those legally charged with defending the rights of people are persecuted, detained and sentenced, who is left with the legal power and capacity to stop violations and seek redress? Arbitrary justice seems like a mild term.